Invicta Ultra Soft Pedal Covers – an (April) Fool's Errand
Some things are, sadly, too good to be true. Alas, the Ultra Soft Pedal Covers for our Invicta pedals was an April Fool's joke. The highly-demanded, exclusive solution for all the barefooted sim racers, was in fact just a ruse.  
Many of you guessed it right away. And some of you… well, you should never be ashamed of being hopeful! 
Right now, most of our effort goes into getting pedals out the door for all our Invicta pre-orders. But we could not help ourselves when we got the idea to prepare a little joke for the sim racing community: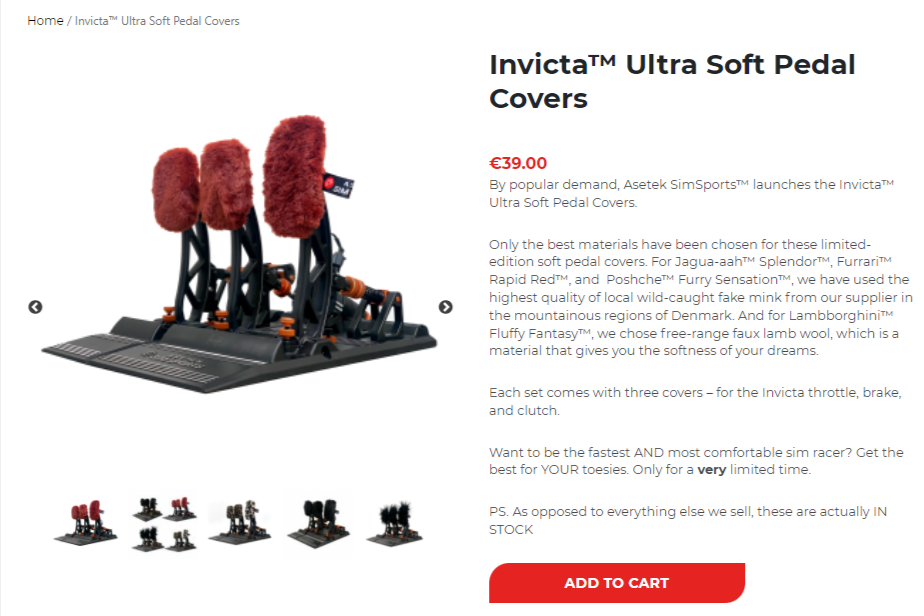 On Friday, April 1st, 2022, we sat with a smile all day and watched you guys smile along with us.  
No less than 1.584 took a look at the Ultra Soft Pedal Covers on our webshop. In addition to that, a whopping 146 of you put one of the fuzzy covers in the basket and tried to check out (sorry!). 
If you want even more behind the scenes from our little prank, we're happy to reveal that:
The fuzzy covers were actually hand-sewn by a member of Asetek's upper management

 

The tattoo on the foot in the promo video says 'Mum' in Danish (see the video below)

 

The video was voiced by yours truly
We have now removed the products again from our webshop, but the video and social media posts will stay up.  
Should we get flooded with fluffy requests from barefooted sim racers, who knows what the future will bring 😉 
Until then, we will soon provide something a bit more sock-friendly.