Wheelbase Settings for Assetto Corsa Competizione
You guys seemed to love our first wheelbase setup guide that we created for iRacing and we have had a whole lot of requests to do it again for other sims.
So, here it is.  
This one is for Assetto Corsa Competizione but don't worry; we heard your call and we'll be doing more in the future for plenty of other games. But this time, GT3 lovers are in for a treat with this Assetto Corsa Competizione wheelbase setup.
Just like with our iRacing setup, we've tuned the setup for the ultimate feel, taking full advantage of our powerful direct drive wheelbases. We will not, however, be explaining what every setting does and only provide notes if appropriate – if you want to know more about this, we'll suggest you check the iRacing Guide, where we go into greater detail – or check out the tooltips in RaceHub.  
As with the last setup, this is not THE best setup but a very good starting point that we very much encourage you to experiment with to find your own ultimate wheelbase setup. This setup has been created to suit all three of our wheelbases, but in certain cases, we will provide specific settings for specific wheelbases.
We'll start with the RaceHub settings and move on to the in-game setting in Assetto Corsa Competizione afterward.
RaceHub Settings
Steering range – 810°   
You may notice this has been changed from 990° , but that is due to the in-game update on the Ferrari 296 GT3, so we've made the corresponding change here to best suit the new update. 
Bumpstop Hardness – Soft   
Bumpstop Range – -10°
This has also been changed from 0 to -10° to suit the newest game update.
High-Frequency Limit – 3300 Hz 
Damping – 20%  
La Prima – 10% 
The La Prima Wheelbase does not need the same damping because it is a bit less powerful that the other two wheelbases. 
Friction – 10%  
Inertia 1/10  
Cornering Force Assist – Off  
Overall Force – 16 Nm 
La Prima – 12 Nm  
Again, the La Prima is a little less powerful than the others, so we've turned it to it's max. 
 Torque Behavior Prediction – 1  
Torque Acceleration Limit – Max  
That is 9.4 Nm/ms on the Invicta wheelbase,  6.7 Nm/ms on the Forte wheelbase , and 4.0 Nm/ms on the La Prima wheelbase. 
Anti-Oscillation – 0%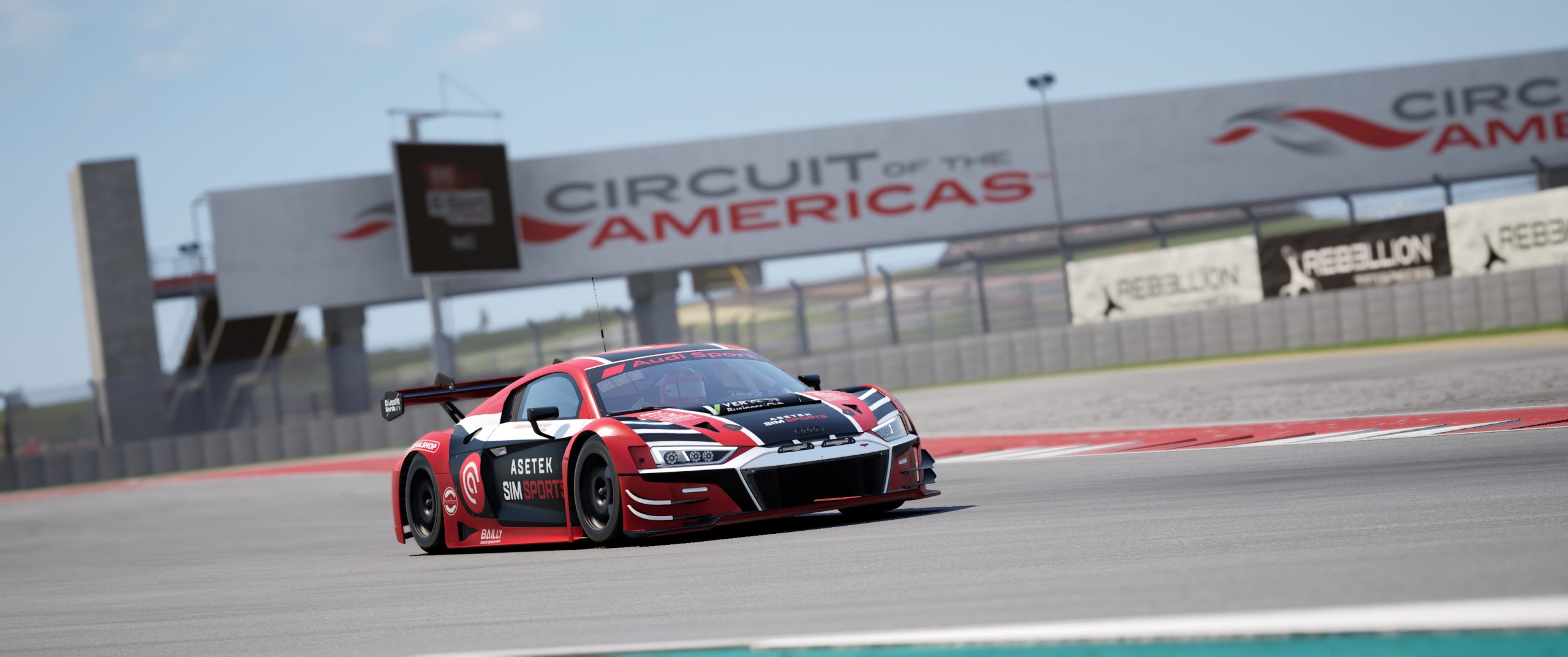 Assetto Corsa Competizione Settings
Gain – 40% 
La Prima – 50% 
This setting essentially controls how strong of a force feedback signal the game will send to the wheelbase. Here we can boost the La Prima wheelbase a little to compensate for its lower overall power.  The same is true for the Invicta and Forte if you prefer more force, you can adjust it here – but be sure to keep an eye on the in-game FFB-meter to make sure you avoid clipping. 
Damper – 0%  
We've set this to zero, as we have more control of the damping we're doing in the wheelbase itself through RaceHub. 
Dynamic Damping – 100%  
This controls how much of the weight of the car is felt in the wheel. We want as realistic a feel as possible, so we'll set this to 100% 
Road Effects – 0%  
This setting can boost road details, but our wheelbases are responsive and quick enough to deliver perfect detail without having to boost the signal. 
Frequency – 400 Hz 
Here we can adjust the refresh rate of the feedback, and we'll set this to its highest setting.
Steer Lock – 810°   
This too has been changes from 990°  to suit the updated Ferrari 296 GT3.