GIGABYTE Server Liquid Cooling Solutions
GIGABYTE believes that liquid cooling will form a key part of future data center infrastructure. Check out this video where Peter discusses data center challenges and the benefits of GIGABYTE liquid cooling server solutions based on Asetek D2C technology.
GIGABYTE H262 Series Liquid Cooled Servers
Part of the H262 Series, GIGABYTE H262-Z61 Liquid Cooled Server offers:
Available factory installed Asetek liquid cooling on request, or as barebones component
Dense 2U 4-node server platform
AMD EPYC™ 7002 series processors
8 x processors in 2U
8 x RDIMM/LRDIMM per processor
4 x PCIe Gen4 x 16 expansion slots
Full Factory warranty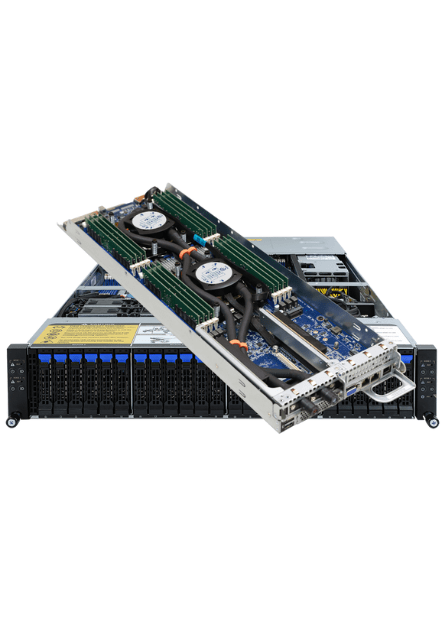 GIGABYTE G481-S80 Liquid Cooled Servers
GIGABYTE G481-S80 Liquid Cooled Servers offer:
Available as factory installed liquid cooling on request, or as barebones components
4U GPGPU Server
Up to 8 NVIDIA® Tesla™ V100 SXM2 modules
Up to 300GB/s GPU interconnect via NVLINK™
2 Intel® Gen2 Xeon® Scalable processors
24x 6-channel RDIMM/LRDIMM DDR4
5 x low profile PCIe Gen3 slots
Full Factory warranty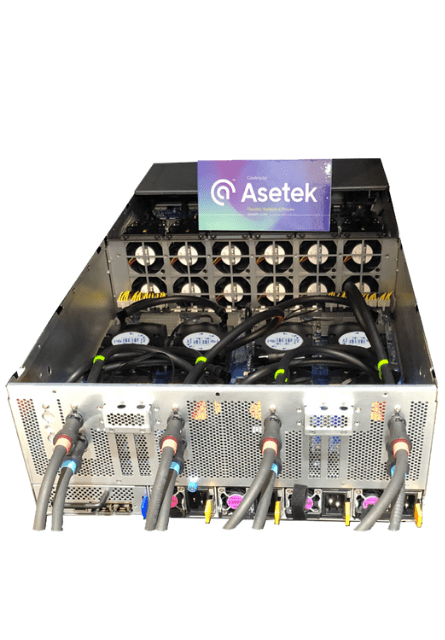 R161-R12 1U – Intel® X299 Server System – Liquid Cooling Solution Designed for High-Frequency Trading
In the world of high-frequency trading (HFT), financial institutions need to deploy the fastest available hardware in order to mitigate latency between trader workstations and exchanges. Shaving microseconds off server response times can often be the difference in millions of dollars in revenue. GIGABYTE brings its precision engineering to a new line of ultra-fast, low latency & low jitter systems designed to meet these demanding performance requirements while maintaining high reliability and stability.
Designed for extreme overclocking, the R161-R12 features a high performance Asetek ServerLSL™ (Server Level Sealed Loop) liquid cooling system and modified BIOS. The fully self-contained liquid cooling system makes it possible to maximize CPU clock speeds with no additional data center infrastructure required – the R161-R12 can be installed in the same racks with air cooled servers.
The R161-R12 using an i9-7980XE (Extreme Edition) processor can be reliably overclocked to 4.4GHz using AVX (Advanced Vector Extensions) or up to 4.6GHz without using AVX, and an i9-7900 processor can be reliably overclocked to up to 4.7GHz.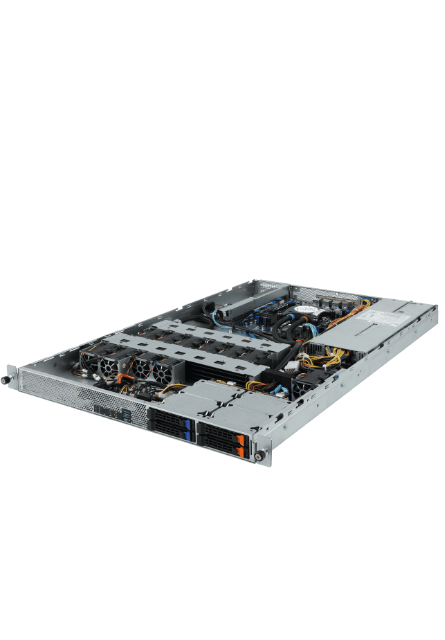 How to Buy
Contact GIGABYTE for information on how to purchase.