HPE Apollo 2000 Gen10 Plus System
Lower power usage effectiveness with direct liquid cooling (DLC) in HPE Apollo systems. Asetek's Direct Liquid Cooling Solution will be delivered in HPE Apollo Systems for increased power density and high wattage processing in data centers.
The HPE Apollo 2000 Gen10 Plus system with DLC is a plug-and-play system designed for the highest wattage CPUs, enabling increased power density and drastically lower overall energy usage—whether utilizing warm water or chill water systems.
Apollo DLC
Available in August 2020, the Apollo DLC consists of cold plate and tube running coolant over the components within the server and pulling the heat away from those components. A manifold runs the length of the rack to bring the coolant supply to the servers, with the hot water traveling to a coolant distribution unit (CDU) that is contained within the rack. The CDU then connects to the facility water, up to 32°C (89.6°F) and water return from the servers.
Image: DLC CPU cooling loops installed in the HPE ProLiant XL225n Gen10 Plus server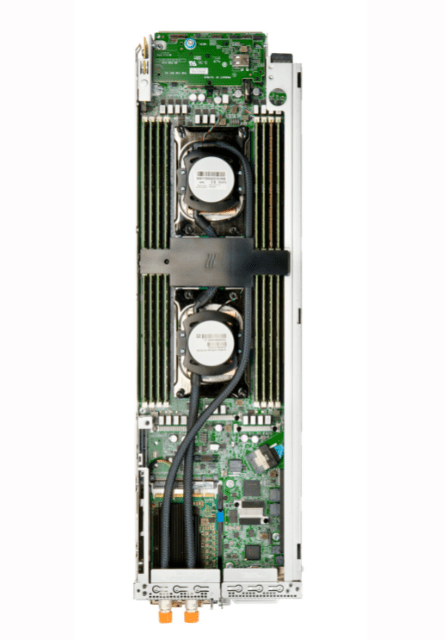 HPE Apollo Gen10 Plus System with DLC benefits
Fully, integrated, installed, and supported by HPE
As easy to install as a rear door heat exchanger, with only facility water to connect at the data center
With DLC, supports processors over 240W for HPC and AI applications enabling the deployment of the highest performing CPUs
Kits include CPU only cooling or CPU and memory
Cooler running systems result in reduced component failures (namely memory, CPUs, and NICs) which means increased availability, plus higher infrastructure performance and better reliability at an ultimately lower cost when compared to an air system
Low-cost solution that consumes up to 75% less fan power at the server. Price scales linearly with each rack
Image: Full-rack rendering of the HPE Apollo DLC solution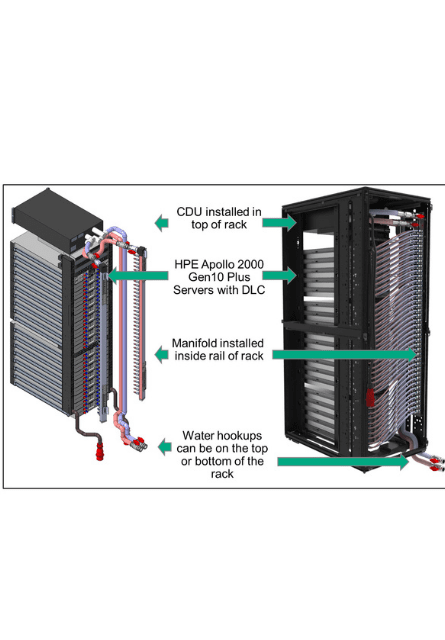 How to Buy
For more information, go to HPE Apollo 2000 Gen10 Plus System or contact your local HPE sales representative.