Phanteks Glacier One and AMD Ryzen 5950X Make a Gaming and Rendering Power Couple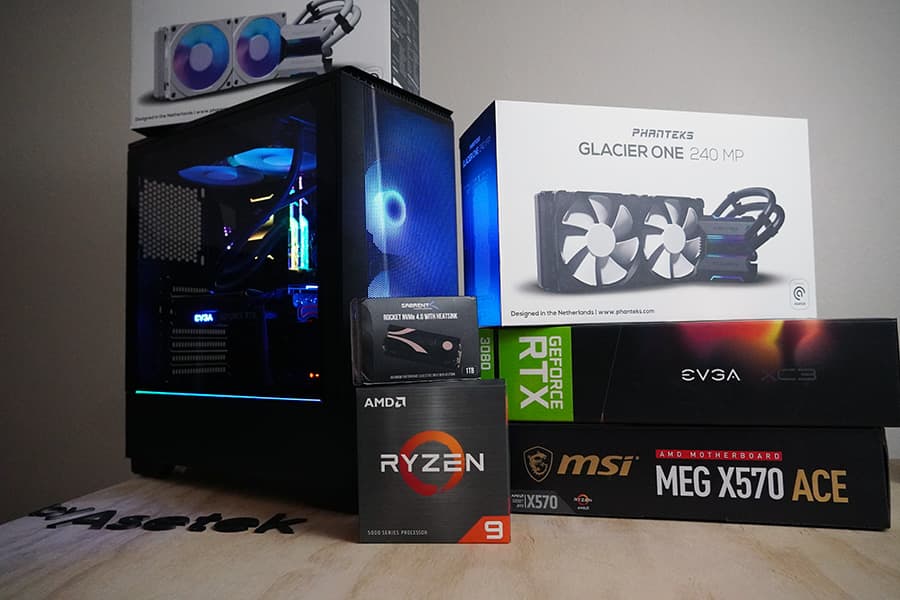 We're building a new PC as a one-stop-shop for just about everything and we're starting with the AMD Ryzen 9 5950X processor cooled by the brand new Phanteks Glacier One MP AIO CPU liquid cooler. The Asetek Technology Evangelists are cranking out more content than ever. So to streamline our process, we're constructing a monster PC that can handle the most demanding games at 60+ FPS while simultaneously streaming those games live. But we're not stopping there. We need to edit and render our video content as quickly as possible for publishing on YouTube, which will require some very key component choices.
Component list
Chassis 

Phanteks

 Eclipse P360X Mid Tower

 

CPU 

AMD Ryzen 9 5950X

 

CPU Cooler 

Phantek

s

 Glacier One MP AIO

 

Motherboard 

MSI MEG X570 ACE

 

GPU 

EVGA RTX 3080 XC3 

Gaming

 

RAM 

Gskill

 

Trident Royal Z 4000 32GB

 

Storage 

Sabrent 1TB Rocket NVMe 4.0 Gen4 PCIe M.2

 

PSU 

Phanteks

 PH-P1000PS 80+ Platinum

 
CPU Cooler – Phanteks Glacier One MP AIO
We knew our very next system build would be built around two crucial components — the impressive AMD Ryzen 9 5950X processor and the Asetek-powered Phanteks Glacier One MP AIO CPU liquid cooler. Phanteks joins the Asetek family with a unique look and feature set. The cooler employs our latest pump technology with several new bells and whistles baked in.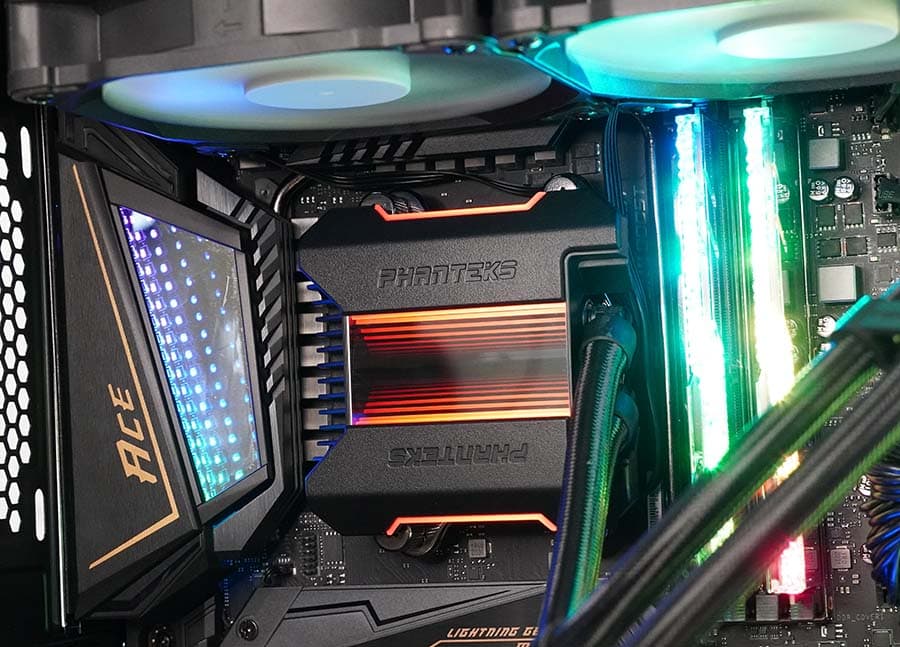 Asetek's latest liquid cooling technology advances include: 
Maximum performance along with industry-recognized quality and reliability.

 

Out-of-Bounds temperature sensing. The cooler continuously 

monitors

 the liquid temperature and automatically boosts the pump speed to clear any temperature excursions, ensuring smooth system operation for an immersive gameplay experience.

 

Safety features to ensure the liquid temperature stays within limits for normal safe operation.

 

Even quieter operation versus 

previous

 technology generations.

 

System improvements resulting in enhanced 

permeation

 resistance and increased durability.

 
CPU – AMD Ryzen 9 5950X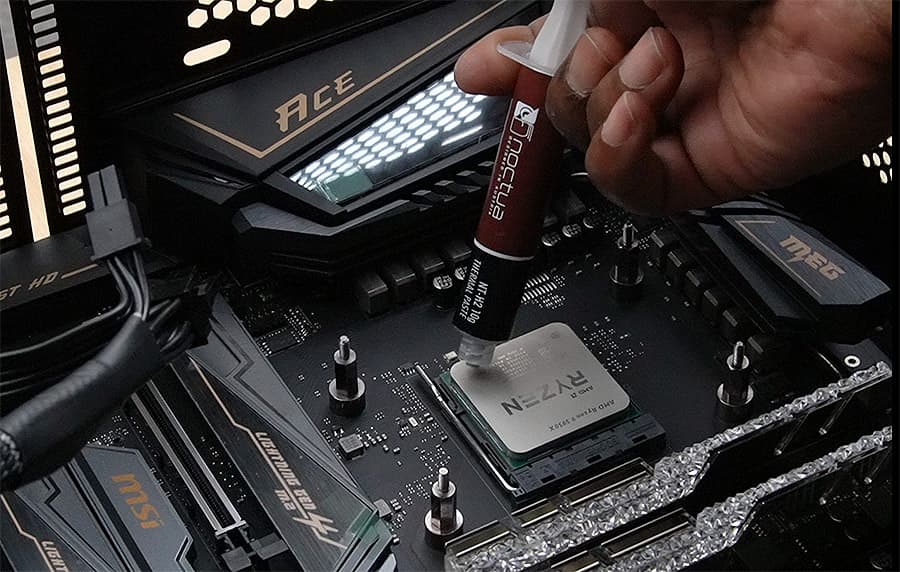 Aptly named, "Ryzen" has been on an incredible rise in performance and market share for AMD. The new Ryzen 9 5950X has raised the bar even further with a staggering 16-cores / 32-threads configuration, making it the most ideal choice for our needs. The small army of cores will be fantastic for multitask work such as streaming while gaming. Additionally, the extra threads will easily handle multithreaded applications like OBS, which we use for streaming and rigorous content creation applications like Sony Vegas and Adobe Premiere. Check the list here for additional AMD-recommended AIO CPU coolers powered by Asetek.
GPU – EVGA RTX 3080 XC3 Gaming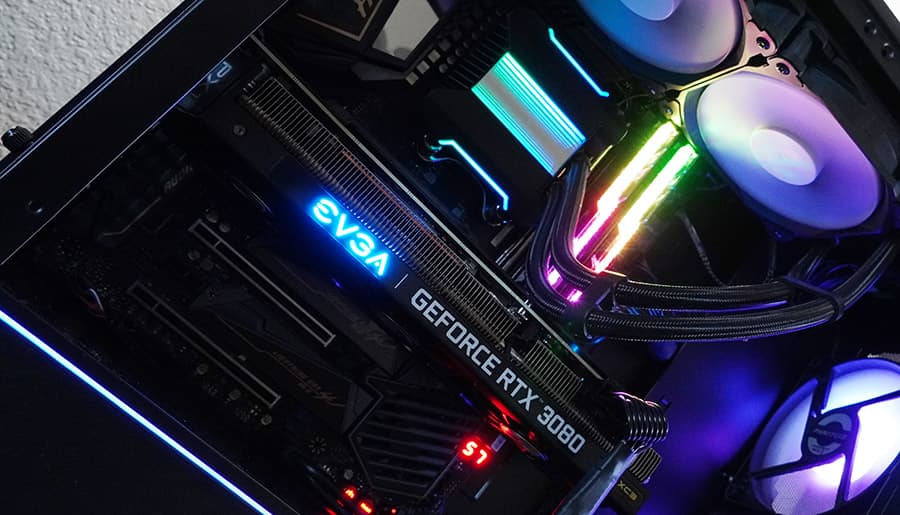 This one is pulling double duty. On the surface, this highly sought-after GPU is all about gaming. That is certainly the focus with a 1710Mhz boost clock, 19K memory base clock, 10GB of GDDR6X video memory, and a 320 bit memory bit depth / 760 GBs Memory bandwidth. But that is only half the story. EVGA's 30-series video cards are built on NVIDIA's Ampere architecture. We've gone over the core architecture and many of the new tricks it utilizes to produce stellar eye candy at a breakneck pace, such as 2nd gen Ray Tracing, 3rd gen Tensor Core, DLSS, and a mind-numbing amount of CUDA cores – 8704 to be exact. Those CUDA cores make up the hardware rendering option we use in our video editing software. In essence, this will significantly decrease the time it takes to render our videos and save us precious extra minutes we can spend gaming. 
Motherboard – MSI MEG X570 ACE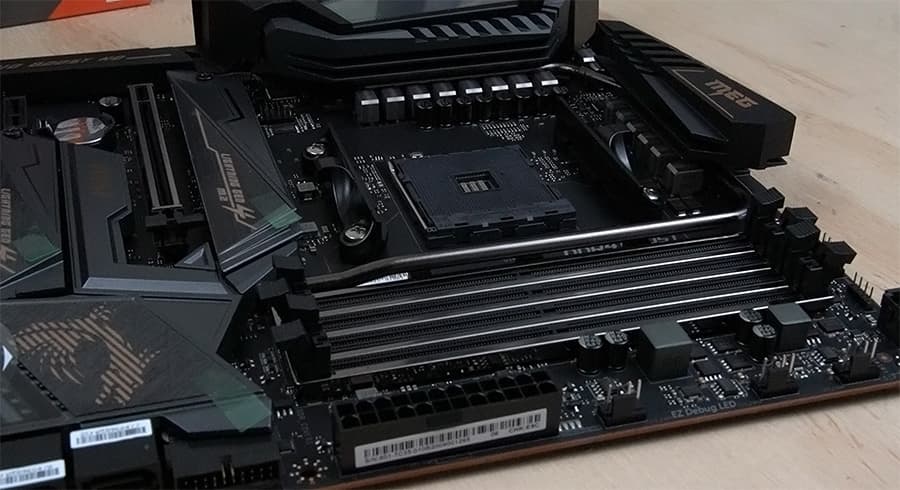 If speed is what you need then X570 is the motherboard chipset platform of choice. Whether you're a sympathizer for Teams Blue or Read, one thing is for sure, PCIE Gen4 is a highly coveted piece of tech that can make or break your buying decisions. Obviously that depends on your storage speed needs; nonentheless Gen4 PCIE is only available on select sockety AM4 motherboards. Our needs are high in this area and we have something special planned to take advantage of this board's PCIE Gen4 speeds. Plus, we're doing a considerable amount of overclocking on this system as we test CPUs and AIO coolers. For this, we want premium components, chokes, and power deliver, which the MSI MEG X570 ACE has in spades. Doesn't hurt at all that this one is drop dead gorgeous with the gold accents and its minimal but strategic use of RGB illumination. 
Storage – Sabrent 1TB Rocket NVMe 4.0 Gen4 PCIe M.2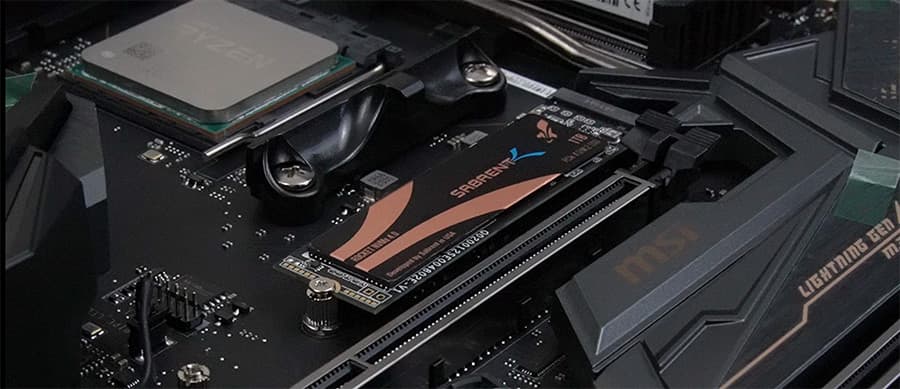 The gumstick-style M.2 drive saves loads of space while also adding considerable data transfer speeds. This is a PCIE Gen4 solution to leverage the compatible port on the MSI MEG ACE motherboard. This drive can reach speeds up to 5000 MB/s (read) and 4400 MB/s 5000, which enhance access times so we can quickly chew through load times in games and be first to the fight. It also tremendously boosts rendering to disk speeds for when we produce video content! 
System RAM – Gskill Trident Royal Z 4000 32GB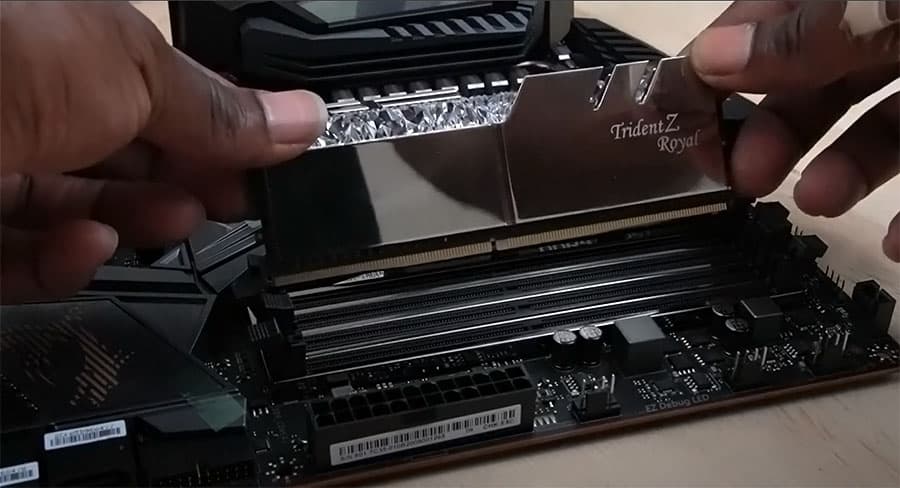 Our RAM choice is fairly straightforward and yet still, not for the faint of heart. Ryzen CPUs benefits from higher frequency system memory so we aimed for the stars with one of the leading names in high performance memory. Two sticks of 4000MHz Triden Royal Z are premium DIMMs in both style and performance. 
Chassis – Phanteks Eclipse P360X Mid-Tower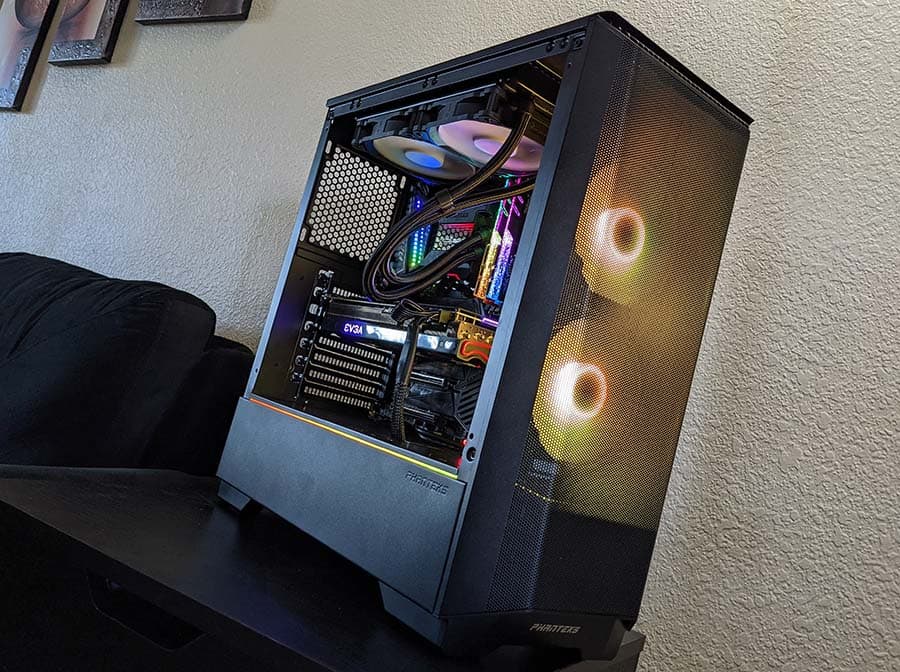 Elegant and powerful internal are met by an equally strong and alluring enclosure to house our new multitasking monstrosity. The Eclipse P360X mid-tower chassis supports full-ATX gear like our full-sized MSI MEG ACE motherboard and our beefy (285.37mm long) EVGA RTX 3080 XC3 video card. The case is highly optimized for airflow, which is great for a system like this, which will spend most of its time under extreme loads. You get some attractive RGB accents just above the PSU area and a pair of ARGB fans used to eject air through the front of the case. 
PSU – Phanteks PH-P1000PS 80+ Platinum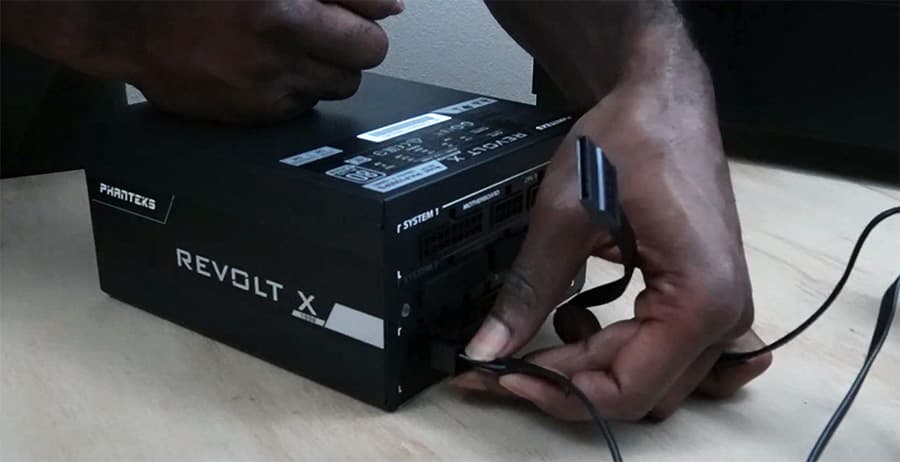 Our Phanteks PH-P1000PS 80+ Platinum rounds out the build with ample power at 1000W. That may seem excessive with a single drive and single GPU. However, the GPU alone can suck up to 350W on its own, with the CPU slurping a healthy sub-200W on top of that. The PSU provides smooth power delivery, a splitter to support dual system setups, and a completely modular design so we only use the cables we need, leaving us with a clean and Spartan interior. 
Cherry-picking excellence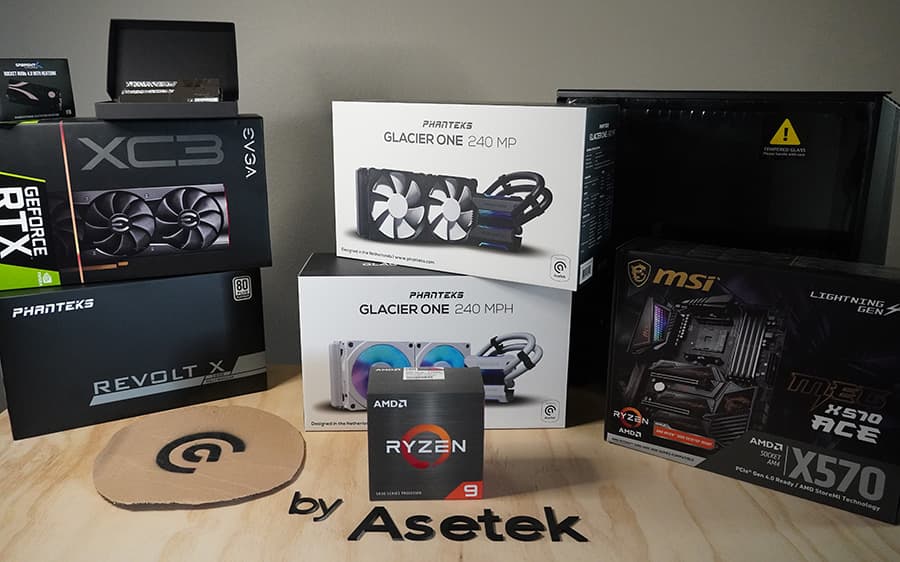 That's a wrap! Our component choices lead to a truly next-gen system featuring 30-Series NVIDIA graphics by way of EVGA, Gen4 PCIE storage speeds thanks to our MSI mainboard and Sabrent storage options, AMD 5000 Ryzen series computing power, and Asetek Gen7 pump technology from the Phantek Glacier One MP AIO CPU cooler. The new Phanteks AIO cooler deftly manages temps to keep the AMD 5950X 16-core processor nice and chilly throughout work and play.  
Now when we're not binging uber-demanding game titles like Hitman 3, Cyberpunk 2077, or Star Citizen then we can use the exact same system to do a myriad of other extremely demanding tasks such as editing and rending high-resolution video.