Stuck In-Doors With the Alienware Aurora Ryzen Edition – 3950X High-End Gaming Lockdown
Lockdown or no lockdown… The #TE way remains "Liquid cooling or bust!" If you're an enthusiast and/or a gamer then this is undoubtedly a war cry you either live by, or you endure as your PC buddies remind you repeatedly. Asetek AIO liquid cooling solutions enable a wide variety of computing experiences for PC DIY enthusiasts and all sorts of gamers — from casual to hardcore. Even better, you don't have to be a DIY PC building expert to reap the benefits of top end liquid cooling. Asetek system integration partners like Alienware offer pre-built gaming perfection to occupy the long lockdown hours. If you're looking for Asetek's quality engineering and reliable performance baked-in for your next rig, then the Alienware Aurora Ryzen Edition 3950X gaming PC, configured with premium Asetek-powered liquid cooling, is a top pick for extreme high-end gaming.
That's exactly what we've been up to since Covid-19 cleared our calendars: gaming on the Aurora Ryzen Edition. It's an elegant system on the outside and tightly engineered within. The contoured shape of the new Lunar Light chassis seems to defy normal case design logic and adheres to the iconic extraterrestrial theme that is synonymous with Alienware. Yet now it comes in its most appealing form factor to date and it's a decidedly adorable bite-size stature by comparison.
Pre-built to impress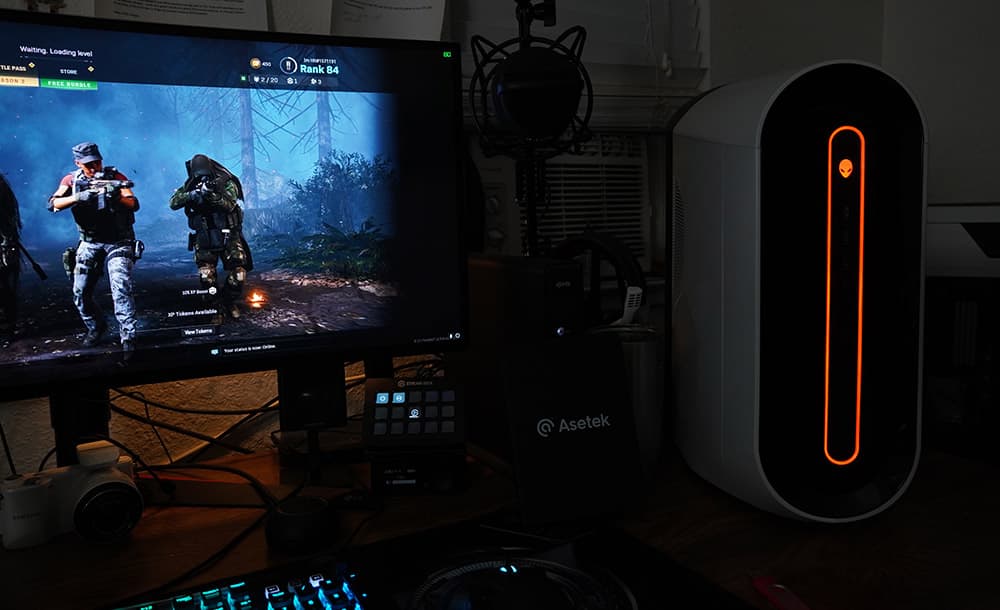 Under the hood, Alienware allows you to configure your system the way you like before purchase. To be honest, we went a little nuts, beginning with our CPU selection — the top-end AMD Ryzen 9 3950X processor. This one is not for the faint of heart and sports 16-cores and 32-threads. It's ideal for both multithreaded applications like Sony Vegas and Adobe Premiere, which are used by many content creators and video editors. Plus, the high core count can help smash through multitasking which many YouTubers can appreciate, or anyone who runs several demanding programs simultaneously.
Dennis and I do this for the Dawn & Shennis show and when we are streaming our favorite games. One of us runs OBS while also running a game or Microsoft Teams, and we simultaneously stream it all to Twitch and Mixer. This is highly CPU-intensive and most content creators opt to divide the load across two PCs – one for gaming and the other for streaming everything to their social platform. The Ryzen 9 3950X is at the top of the Ryzen product stack and employs an insanely efficient chiplet design and feature set. I'm sure by now you've heard all the sumptuous details, but here's a link so inquiring enthusiasts can get up to speed. There are many very good reasons the processor is more sought after than the Holy Grail among professionals, hardcore gamers, content creators and those doing game streaming.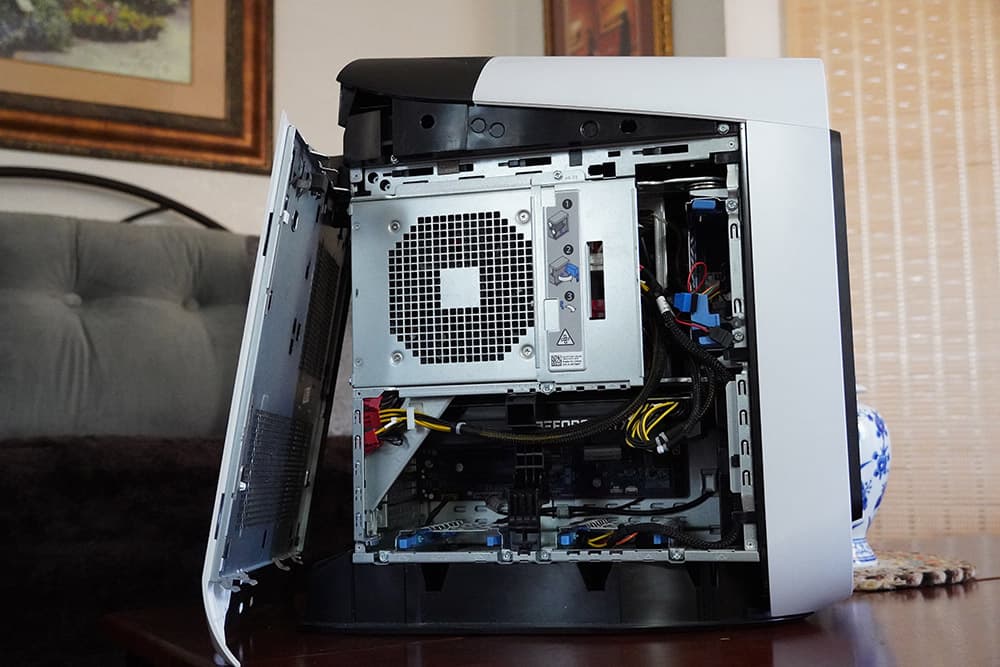 CPU thermals are kept in check via the 120mm Asetek AIO closed-loop liquid cooler. It's important to note that AMD recommends a larger radiator for the Ryzen 9 3950X. But rest assured, Asetek and Alienware were laser focused on nailing this just right. Our tests saw no thermal throttling and smooth system operation throughout, with temps remaining below 77C in most operations, including hours of benchmarks, gaming and streaming simulateously. It may be small, but the Asetek-powered AIO is a feisty and reliable thermal solution, proven by our thermal results below.
An NVIDIA RTX 2080 Ti handles graphics crunching like the top dog it's known to be. We needed something to glide through our monitor's high pixel density of 3440 x 1440 and the 2080 Ti is the cream of crop. We also went with 32GB of Kingston HyperX RAM to bolster our multitasking. Games like Star Citizen gobble up system ram in 12GB chunks as well. So we wanted to make sure we're solid there. It also helps to have a blazing fast 2TB NVMe SSD drive to load into games fast, with minimal waiting.
Triple A cooling (Alienware, AMD, Asetek…)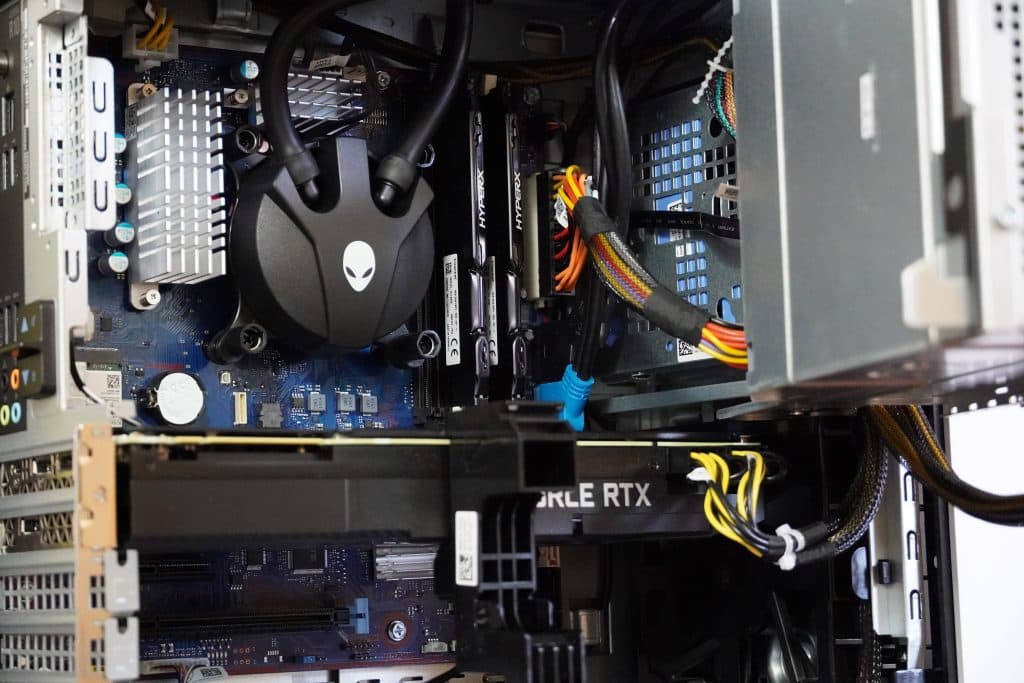 You ever notice, when things work well, you often don't hear much praise or complaint? Well, the Aurora Ryzen Edition 3950X is a highly desirable production tool that doubles easily as a high-end gaming system. It's a dream! The level of harmony these three companies are working at together in this sleek enclosure can go easily unnoticed. The chiplet design of Ryzen 3000 series is truly remarkable and efficient. But at the end of the day, 16-cores is still 16-friggin'-cores – things are going to get toasty under extreme loads. However, the three companies come together to make this light work. The 120mm Asetek-powered AIO is small but it dissipates heat admirably to maintain consistent draw calls and smooth operation. The Alienware chassis design comes in to deftly pull cool fresh air from outside the case to help cool internal components. It does this through vents hidden in plain sight on the front of the chassis, while ushering in hot air through the top and back vents on the case. The three-way contribution gives new meaning to "triple-A insurance".  It speaks to the efficiency of the Ryzen chiplet design, the quality of Alienware chassis engineering and that tried and true Asetek reliability and formidable processor cooling performance.
Science & synthetics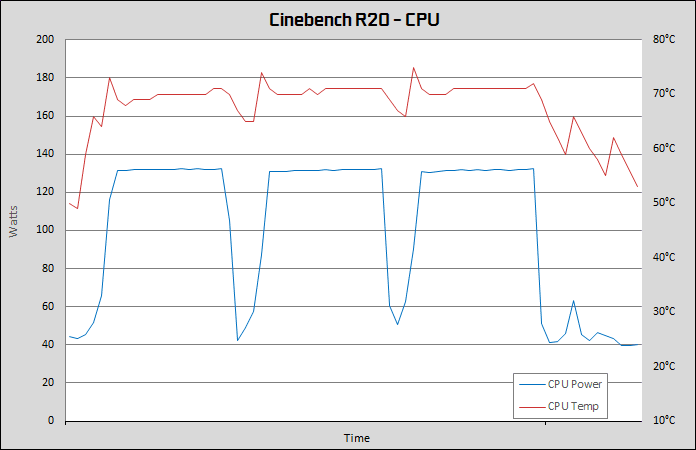 We know you came for the games, but check these numbers. Cinebench R20 CPU test and the Torture test from Prime95 both are great for battering the CPU into submission. While synthetic, these tests put an intense load on the CPU. The load demands more power, which leads to more heat output for our Asetek-powered AIO. I ran Prime95 for an hour, which lead to 130W power draw from the CPU. Nonetheless, the Asetek 120mm AIO kept the CPU below 80C for no thermal or stuttering.
The Alienware Aurora Ryzen Edition is a remarkable piece of tech. But it's can't defy the laws of physics. You do hear a slight hum from the single 120mm radiator fan on heavy loads. It's no deal breaker and headphones are hardly needed. The GPU is more audible, but that's expected from a blower style cooler solution like the one on our RTX 2080 Ti. Some noise can be alleviated with a lower spec GPU like a RTX 2070. You can also play at a lower resolution or you can endure lowering your graphics settings for reduced visual fidelity. Take all this into consideration when configuring your Aurora. Unfortunately, liquid cooling the GPU in this system is not possible, with no place to put the second radiator needed. The Alienware Lunar Light chassis design is so well engineered and just too compact. Now we just need Asetek and AW to innovate on GPU liquid cooling for those who love to build small. Something potent yet sleek to fit tighter spaces? Come on guys! Are you up to the challenge?
Covid-SCHMOVID – the gaming lockdown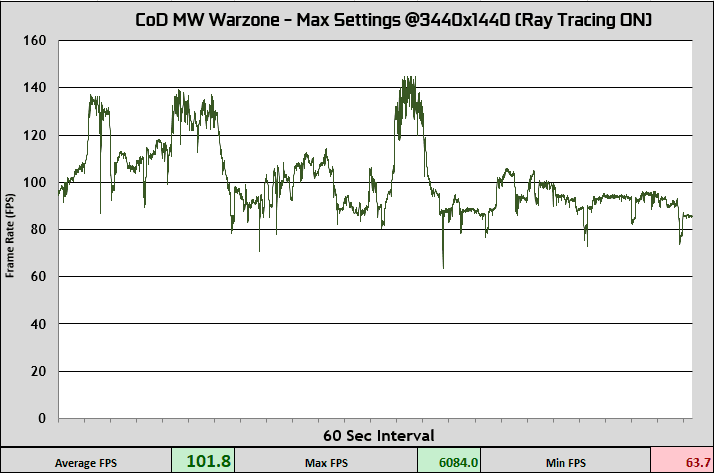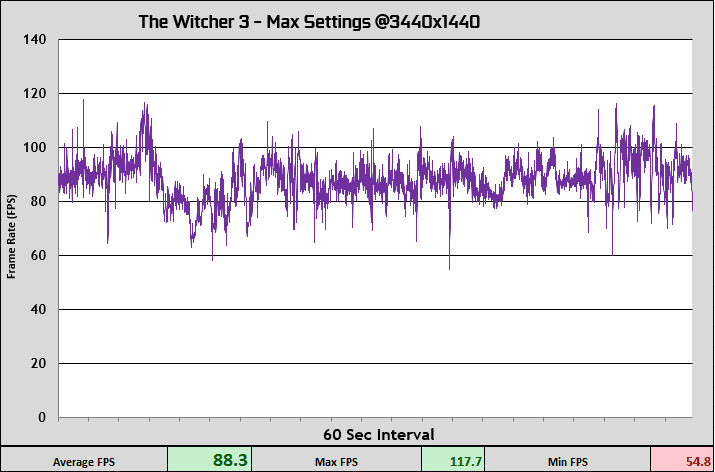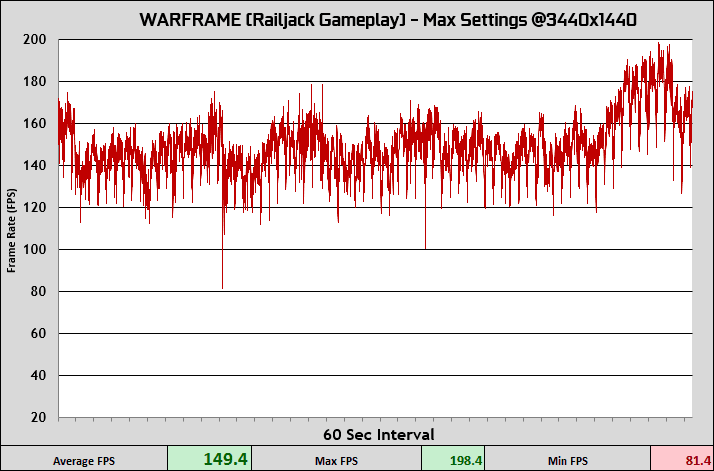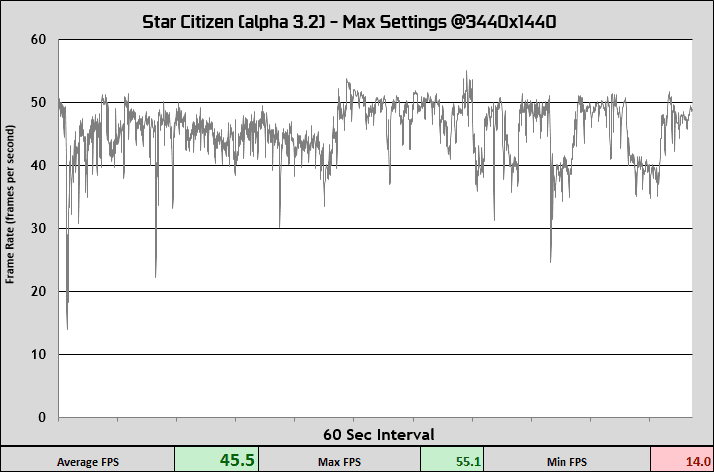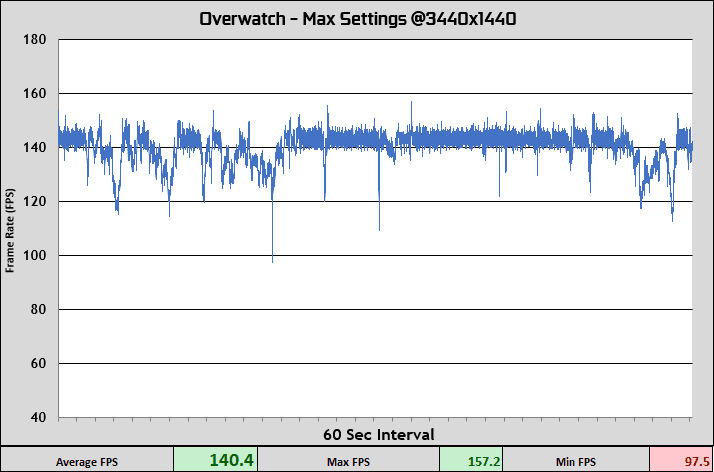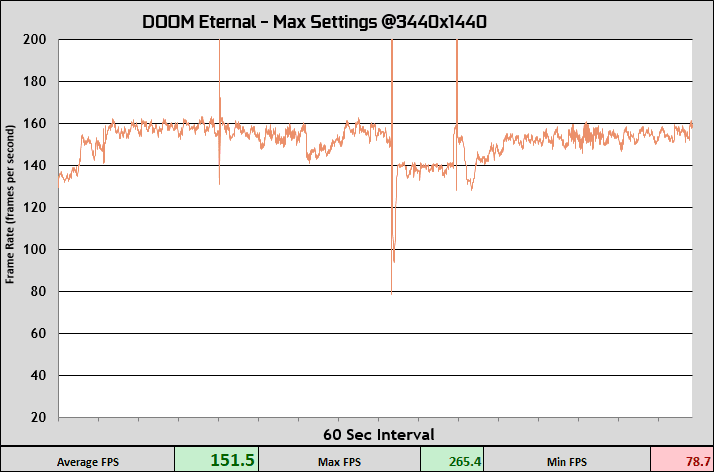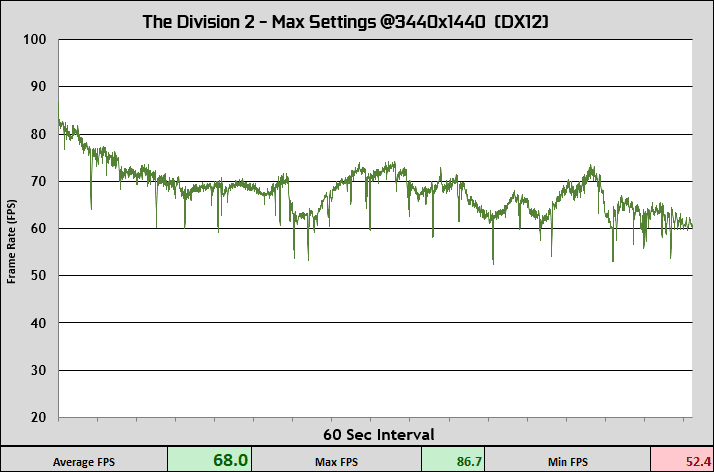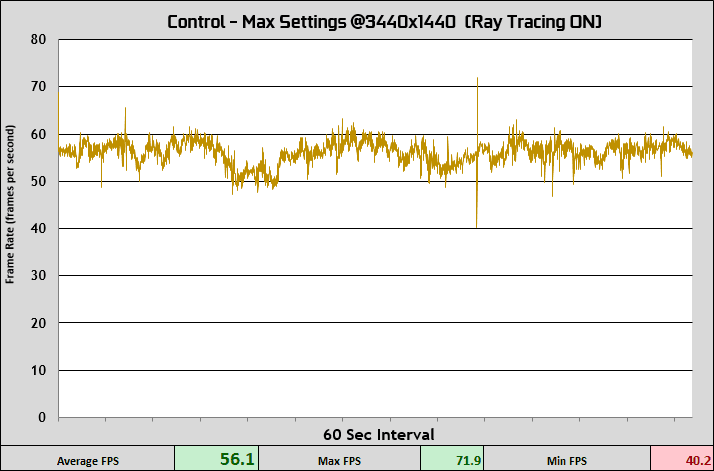 Behold! Ok…ok! Can you tell we love data? We went a little off the reservation with all the benchmarks to separate the quick glancers from the real enthusiasts.
To be clear, when I say high-end gaming, I'm not talking about 4K. That resolution is just too annoyingly demanding for us gamers who crave highspeed. For me, 3440 x 1440 is the bleeding edge where I live and is a noticeable bump in visual quality over traditional 1440p. Plus supporting monitors are offered in ultrawide with curved panels for that extra bit of visible real estate at the periphery.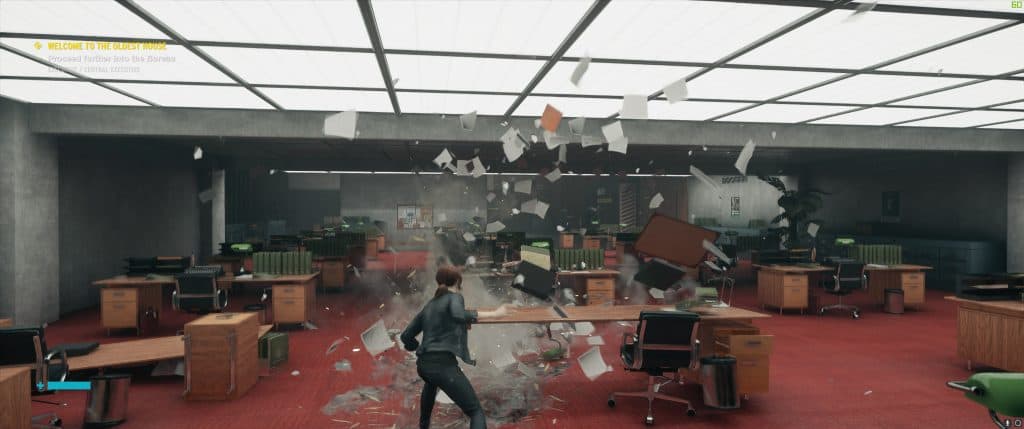 It's an ideal setup for rich, fluid gameplay and animations that is more akin to watching a Pixar film than playing a video game. Game worlds really come to life when you can pair that resolution with a speedy refresh rate like 144Hz and a peppy GPU to fill that wide 144Hz bandwidth. Achieving such performance is a very tall order, however. But the Aurora Ryzen Edition left us floored with its gaming prowess. Take a look for yourself.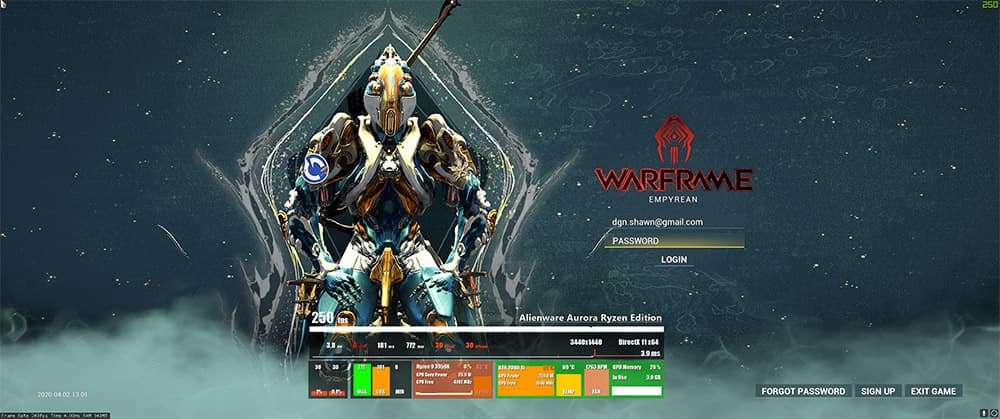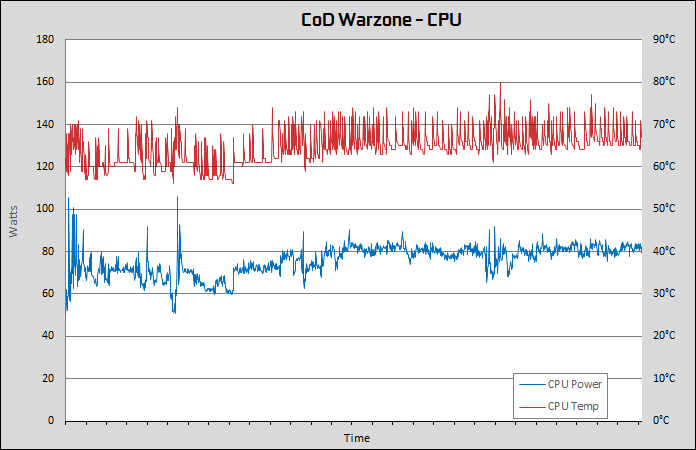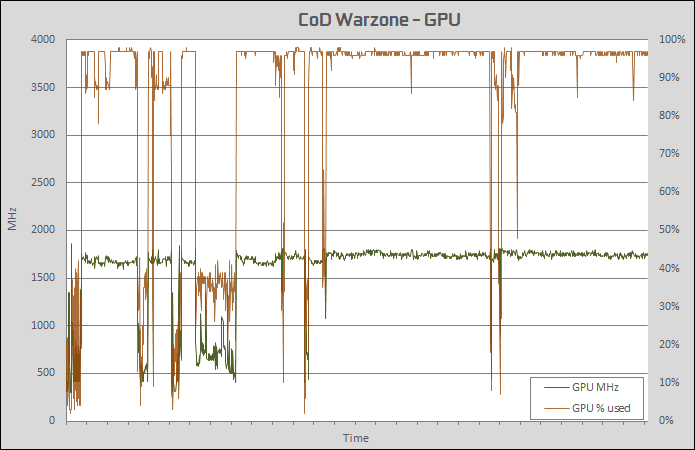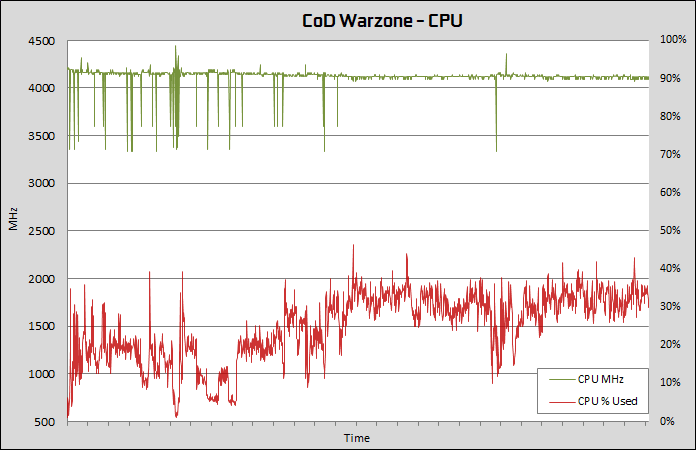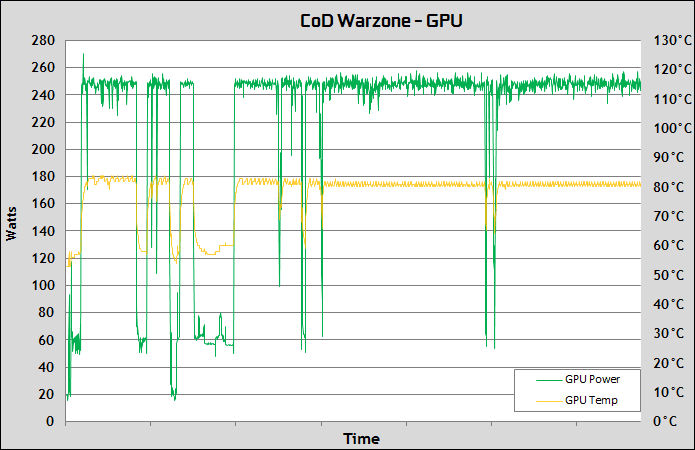 Using HWiNFO we were able to log our entire gaming session and analyze system thermal behavior as it related to component performance. We also captured FPS and frametime data in 00:60 sec chunks. Finally, we graphed an hour of Warzone gameplay so you can see how the Aurora Ryzen Edition handles prolonged gaming sessions with ease. The graphs above reveal how GPU and CPU clock speed, usage, power consumption and temperature varied over 1-hour.
The better way to cool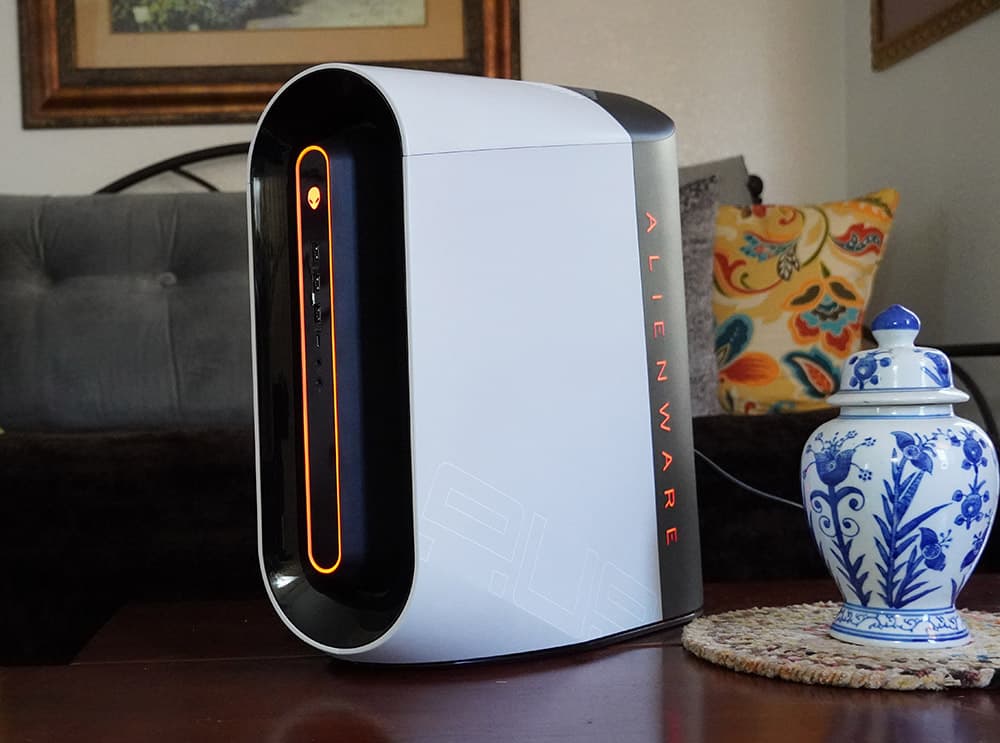 The Alienware Aurora Ryzen Edition 3950X is an empowering gaming system that enables you to do just about anything. It makes a great streaming and gaming system, while also making short work of rendering, encoding and other heavy CPU-dependent workloads. It may be a little overkill for a primary gaming rig. But this system is for the overachiever, the professional with a penchant for completing tasks swiftly and efficiently It's also one of the smoothest running pre-built systems I have ever used. There was absolutely no thermal throttling at the CPU or GPU level. Temps were kept under 77C in most cases with very rare spikes to 80C. Plus gaming and streaming simultaneously was a breeze in both 720p and 1080p. Moreover, the consistent and smooth system operation is brought to you by one fine closed loop liquid cooling solution from Asetek.