EVGA CLCx 280 CPU AIO Liquid Cooler & Software Deep Dive
Today we're building a PC just to play with EVGA's new CLCx CPU AIO liquid coolers and its companion software. Asetek-powered AIO coolers from EVGA are some of the most beloved solutions by the PC enthusiast community. They are formidable and reliable coolers, that were never plagued by a rat's nest of wires to manage.  
EVGA CLCx AIO coolers are the new hotness
Nonetheless, change has come! Introducing the EVGA CLCx AIO CPU Liquid Coolers. Get ready, because virtually everything has been revamped. The most obvious is that we now have a display or digital canvas for further self-expression or system monitoring. This is the first for EVGA AIO coolers. The 2.1" 480×480 LCD display throws up rich color and functions like one would expect, with a few extra tricks. EVGA has even created a complete set of software utilities to manage cooler functions and RGB tools for the brand new EVGA CLCx series of coolers. But before we dive into all that… 
Passion. Precision. Performance.
The new line of coolers also sports our Asetek Gen7 pump technology. This brings many new features and performance parameters, such as Out-of-Bounds temperature sensing. The cooler continuously monitors the liquid temperature and automatically boosts the pump speed to clear any temperature excursions, ensuring smooth system operation for an immersive gameplay experience. We have also included safety features to ensure the liquid temperature stays within limits for normal safe operation.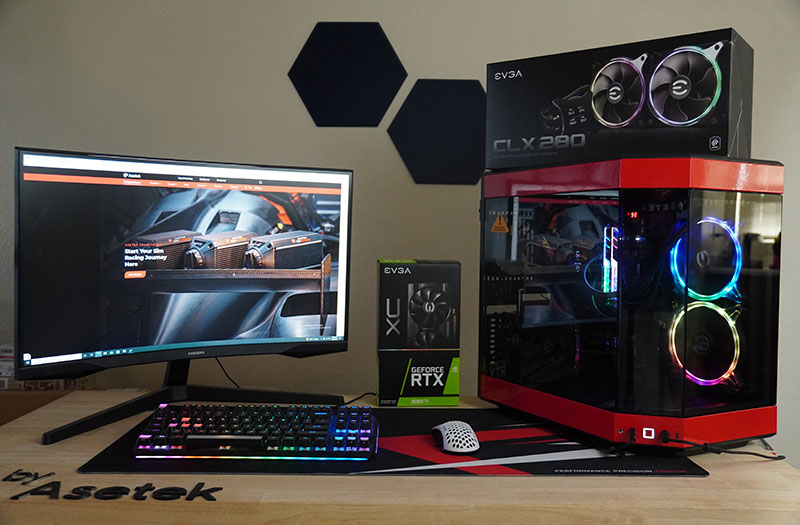 Big talk, right!? So, let us build a PC and check all this out firsthand. The EVGA CLCx 280 gave us a great excuse to crack open this gorgeous Y60 Red wide tempered glass PC case with its alluring polygonal shape. This is a remarkable midsize ATX PC chassis, deceptively roomy, and a breeze to work within. The front and side panels do not meet at a right angle like 90%+ of the other ATX cases in this class. Another 2.75" panel sits between them to create a breathtaking view of the system internals. This box was meant for flexing. Don't believe me? HYTE has included a built-in PCIe 4.0 GPU riser cable to better display your video card's more 'Gram-ready side. The case features ample room for a variety of water cooling configurations. The back also opens to plenty of added space for clean, out-of-sight cable management.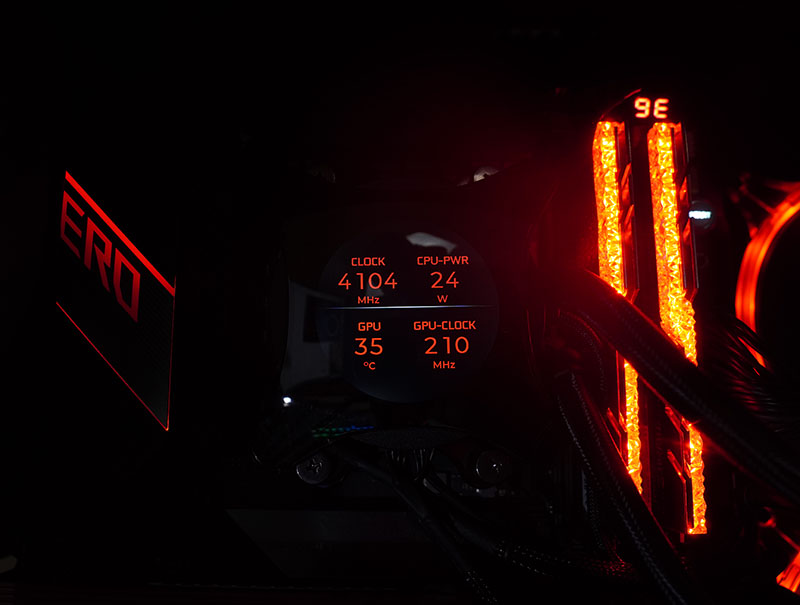 CLCx, LCD, LED, and HWM. 
The 4-point star design and LCD display immediately grabs your attention. Yet honestly, I was impressed by how intuitive and comprehensive the CLCx Software turned out. Download it from the website and after a quick installation, you're in! They don't ask for any information or for you to sign in or join anything. Refreshing! The look and feel are unashamedly like EVGA Precision, which is used to manage your GPU. The CLCx is exactly that for their new CPU AIO coolers and looks just as slick.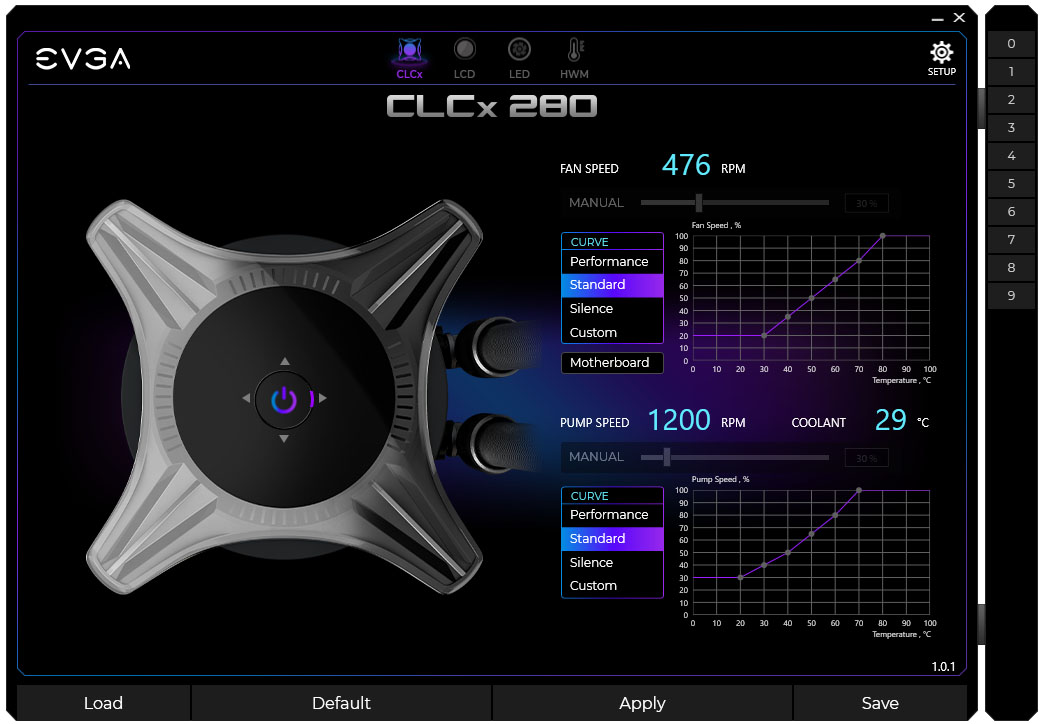 The software is divided into four sections. The first section is CLCx. Here you set the orientation of the pump by designating where the tubes are positioned. Fan curves and pump speed curve presets can be set here. You can also select the Custom preset and manually set these curves to your preference.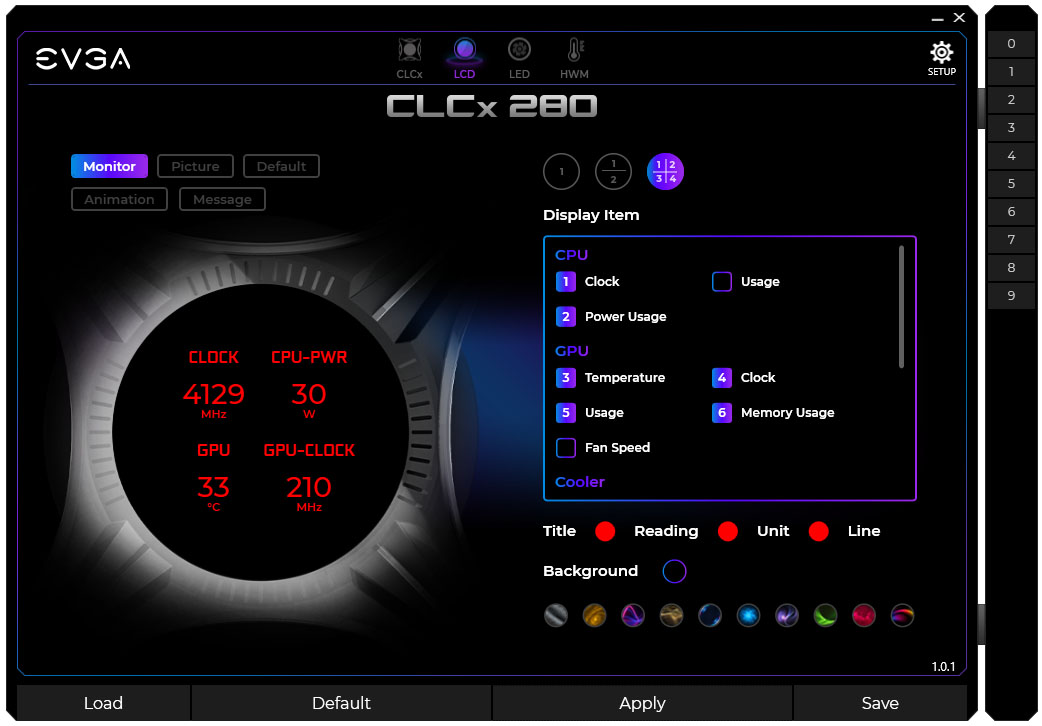 The LCD section is where that self-expression begins. Here you can customize the LCD to monitor system settings like fan speed, GPU temps, CPU clock speed, and more. Four different items monitored can be shown on screen at once. Moreover, 11 different hardware components can be monitored at once. They will simply cycle through in a loop, displaying four items at a time. You can even arrange the order they appear. Change the background color or choose from 10 different background designs.
Everything shown can be customized with a color of your choosing, including Title, Reading, Unit (%, watts, MHZ etc…), and the Line that separates the upper and lower portions of the display. As you see we went for a proud Asetek Simsports red theme! Or you can have a bit more fun with it by uploading static images, animations, and custom text messages.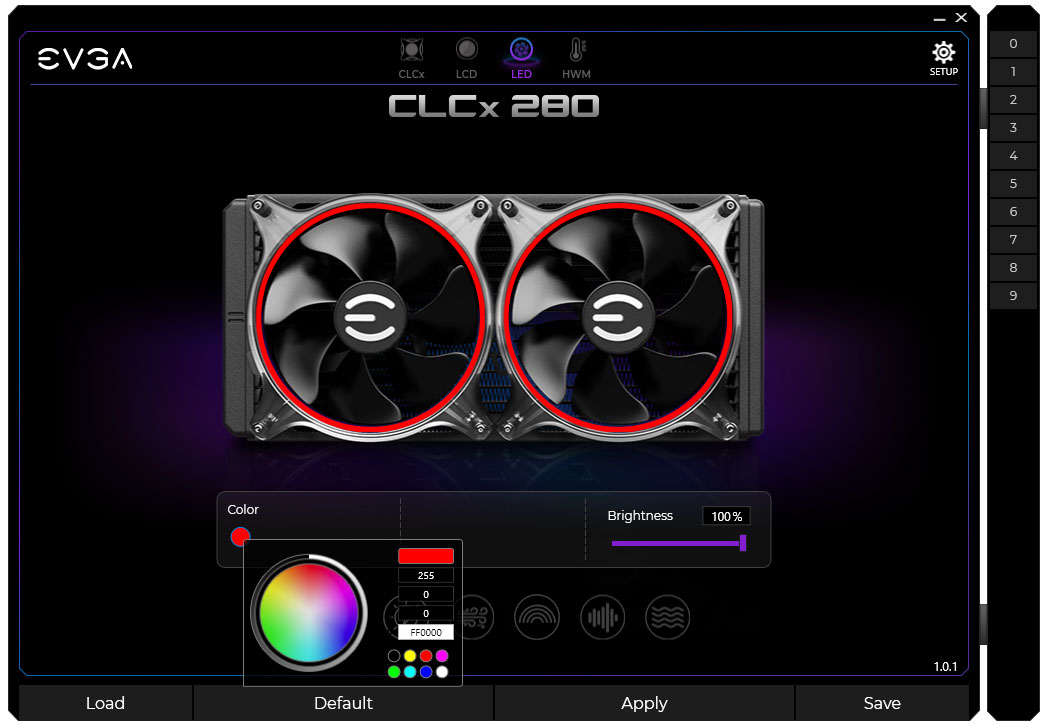 The penultimate page dubbed; LED allows you to tweak the LED lighting halos that encircle the radiator fans. Set brightness and select from five different LED settings; Static On, Breathing, Rainbow, and Rainbow Waves. You can also turn the LEDs off for a completely blacked-out look. But when you want the bling, the pair of 140mm fans throw up a brilliant glow that is soft and more appealing than some competing RGB solutions, and it looks sick against the red of our HYTE Y60 case.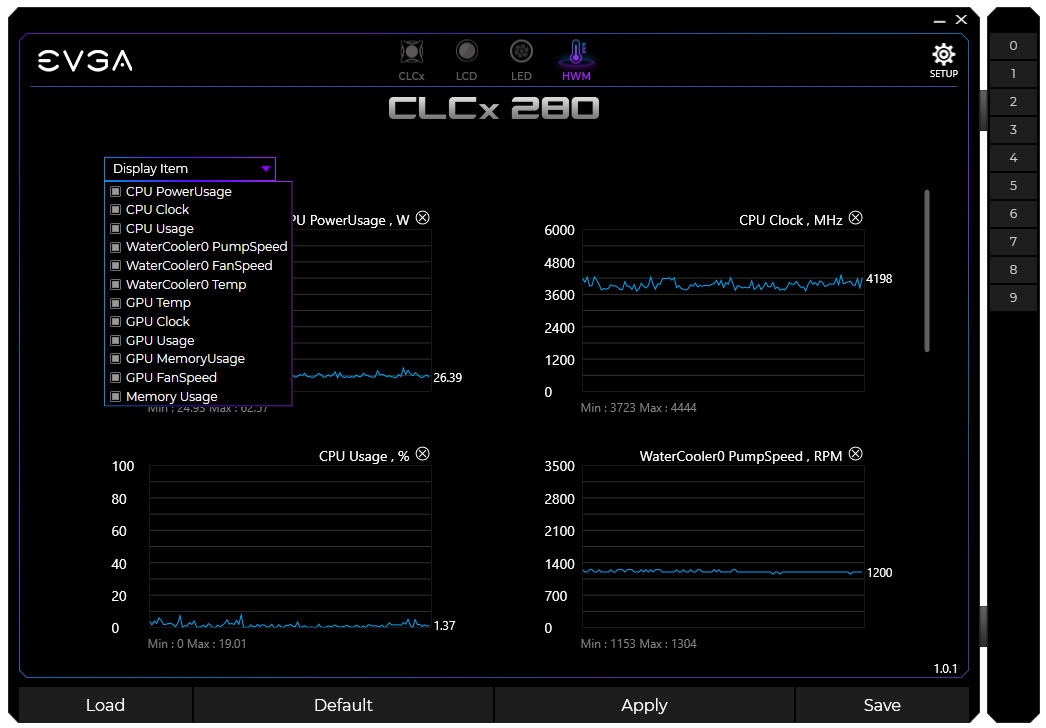 The final page is HWM, where you can select up to 12 different system components to monitor in the application's graphs. You can also choose to log this data to a file so you can reference and graph it later.  
System Configuration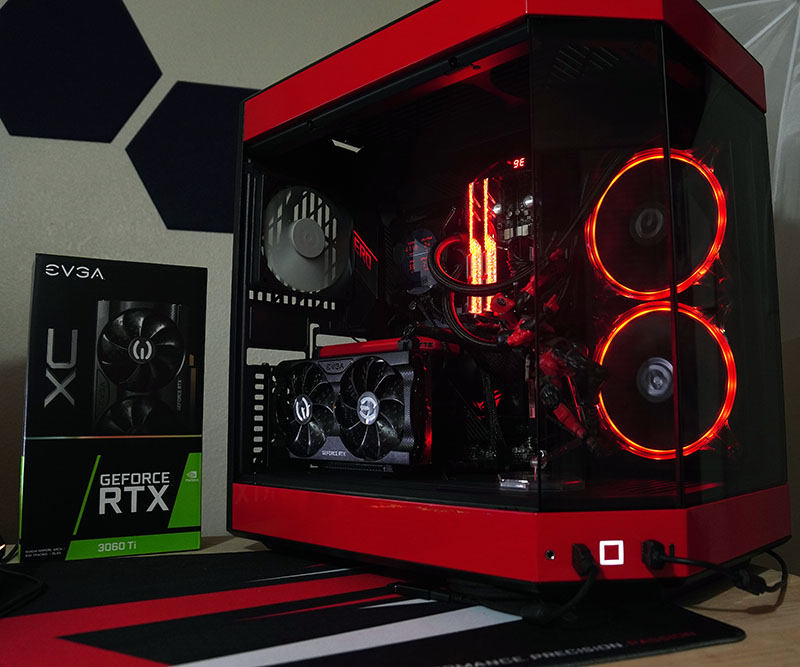 CPU: AMD Ryzen 9 3900 XT 12-Core processor
Cooler: EVGA CLCx 280 AIO CPU Liquid Cooler
Motherboard: ROG CROSSHAIR VIII X570
GPU: EVGA GeForce GTX RTX 3060 Ti
RAM: G.Skill 16GB 4000MHz Trident Royale
Case: HYTE y60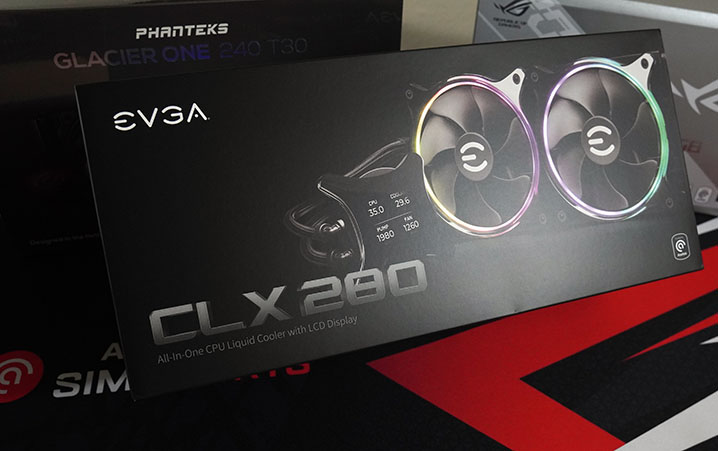 Asetek is the brand behind the brand. We create the core ingredients powering your favorite retail brand CPU AIO coolers.