Dell™ Embraces Asetek® Liquid Cooling to Boost Extreme System Performance With New Alienware Systems
Dell's New Alienware™ Aurora™ and Area-51™ Gaming Systems Use Asetek's Technology to Achieve Greater Overclocking Headroom by Lowering CPU Temperatures
Asetek announced today that its industry leading liquid cooling technology has been selected by the Dell's premier gaming brand, Alienware to drive the extreme performance of the Alienware Aurora and Area-51 systems to higher levels. Asetek liquid cooling enables Alienware's desktops to extract the most performance from Intel's Core i7 CPUs. Gamers, enthusiasts and performance computing professionals can safely push these systems to extreme overclocking speeds. The result is systems that deliver extreme computing experience and extreme convenience.
"The ability to deliver extreme overclocking out-of-the-box drove our decision to make Asetek Liquid Cooling standard on our newest Alienware Aurora and Area-51 systems," said Frank Azor, Senior Manager, Product Planning. "With Asetek liquid cooling we are able to push Intel's Core i7 performance further, giving our customers a richer gaming experience."
"Asetek's Liquid Cooling is compelling. It enables maximum performance and quiet computing, resulting in the optimum computing experience," said Gary Baum, Asetek's Sr. Vice President of Marketing. "We are pleased that our advanced liquid cooling solutions have been adopted by the world's leading gaming brand. This adoption is the latest step in the trend toward all credible performance PCs being liquid cooled."
Liquid cooling is superior to traditional air cooling in dissipating large amounts of heat quietly. Unlike traditional air coolers, Asetek's factory sealed liquid cooling system is specifically designed to exhaust CPU heat directly outside of the chassis. This enables lower interior chassis temperatures, keeping the other components in the system cooler, prolonging their life.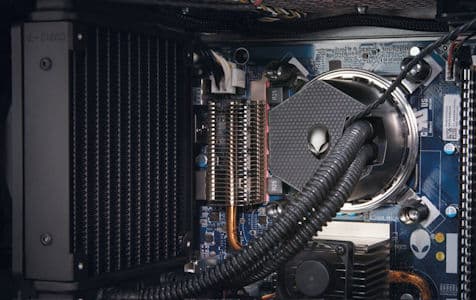 About Asetek
Asetek is the world leading system thermal and acoustic management solution provider to OEMs servicing the gaming, workstation and performance PC markets. The company's liquid thermal management system delivers superior thermal and acoustic performance in a factory sealed unit that sets new standards for reliability and suitability for large volume production. Leading OEMs use Asetek's liquid cooling products in systems where end users demand exceptional performance, low noise and maximum reliability. Asetek's strong brand name products are often the favorite choice of enthusiast grade system builders having obtained more than 200 international press awards in the past decade.
Founded in 2000, Asetek has offices in San Jose, California, Denmark and Asia. For more information, please visit www.asetek.com.
About Dell
People worldwide can buy Dell online, by phone and in nearly 43,000 stores. Alienware, Dell's premiere high-performance PC gaming brand, offers unique and award-winning computers that incorporate innovative engineering and are designed with state-of-the-art components. Credited as being one of the first PC gaming hardware manufacturers, Alienware remains committed to creating industry-leading trends in the high-performance gaming arena. Alienware manufactures a diverse selection of customizable, high-performance desktops, notebooks and gaming peripherals that attract a broad range of customers who demand world-class performance and design.
Contact:
Steve Branton Asetek, Inc.
+1-408-
823-4486
[email protected]