ASUS Ups The Ante With ROG Strix LC RTX 3080 TI Liquid Cooled GPU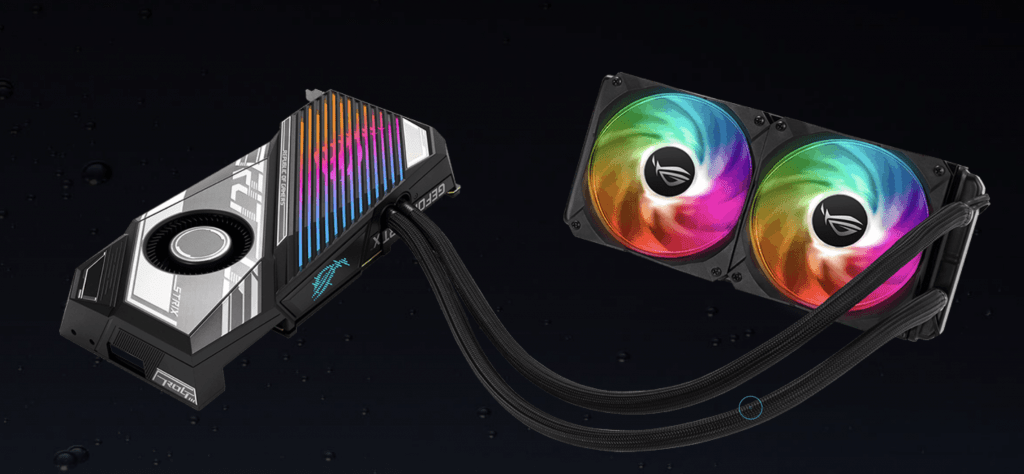 As if a 3080 wasn't enough. As if liquid cooling one didn't make it crazy powerful. Now ASUS has gone the distance with the brand new NVIDIA RTX 3080 Ti by throwing in the best liquid cooler on the planet on top.
The ROG Strix LC RTX 3080 Ti ups the ante even more with a cold plate that covers both the GPU die and VRAM. This 3080 Ti is made to be overclocked. And not just a little, thank you very much. A 240mm radiator works in tandem with the onboard fan for maximum coolage.

Everything comes wrapped in gorgeous ARGB lighting and with the latest from Asetek. This hardcore cooling means the 3080 Ti has a boost clock of 1860MHz (up from 1665MHz). That's no surprise: with water hitting the block and cooled twice, heat stands no chance. A 240mm radiator and 600mm water pipe guarantee heat dissipation that'll stay quiet.
And what better GPU is there to chill than the RTX 3080 Ti. 4GB of additional VRAM over the RTX 3080 and a higher clock speed than the RTX 3090. The Ti model is closer to the RTX 3090 than the 3080 with the jump to a 384-bit memory bus and 80 RT cores. The ROG Strix LC RTX 3080 Ti is a force to be reckoned with.