HotHardware, Asetek And MSI Liquid Cooled Gaming PC Giveaway
Stand up, gamers and PC enthusiasts! Asetek is back in our giveaway bag to offer up a super high-performance gaming PC with an impressive list of included components and peripherals. This one was built by yours truly and nearly every component comes from our friends and AIO partner at MSI! Big THANKS to HotHardware for hosting this jaw-dropping giveaway bundle.
Feast your eyes on the included goods as we run down each of the components included in the core PC. However, every serious gamer knows a capable set of peripherals is crucial for a complete high-end gaming experience. So in this giveaway, we've included a blistering fast MSI Artymis 273CQR (2560×1440) 165Hz, 1000R Curve gaming display, and the MSI Clutch GM41 Lightweight Wireless Gaming Mouse for fast, light, and untethered input accuracy and movement.
Now let's check out "what's in the box!"
Intel Core i9-12900K Processor 16 (8P+8E) Cores
The Intel 12th Gen processor is highly formidable for gaming, rendering video, and editing media as well as being a great choice for streamers both new to the art or experienced YouTube/Twitch streamers. It sports a total of 16 cores (8-performance cores and 8-efficient cores) and 24 threads with a max Turbo frequency of 5.2GHz
MSI MEG CORELIQUID S360 AIO
That kind of processing power requires an equally capable cooling solution. We have our Asetek Gen7 pump technology on deck here. This is paired with a 360mm radiator and MSI's own trio of MEG SILENT GALE P12 radiator fans to easily pull heat away from that sizeable radiator. Display system vitals, your choice of GIFs, or images using the 2.4″ customizable IPS display. The original pump cap also houses an embedded fan to cool surrounding components and VRMs.
MSI MPG Z690 Carbon Wifi Motherboard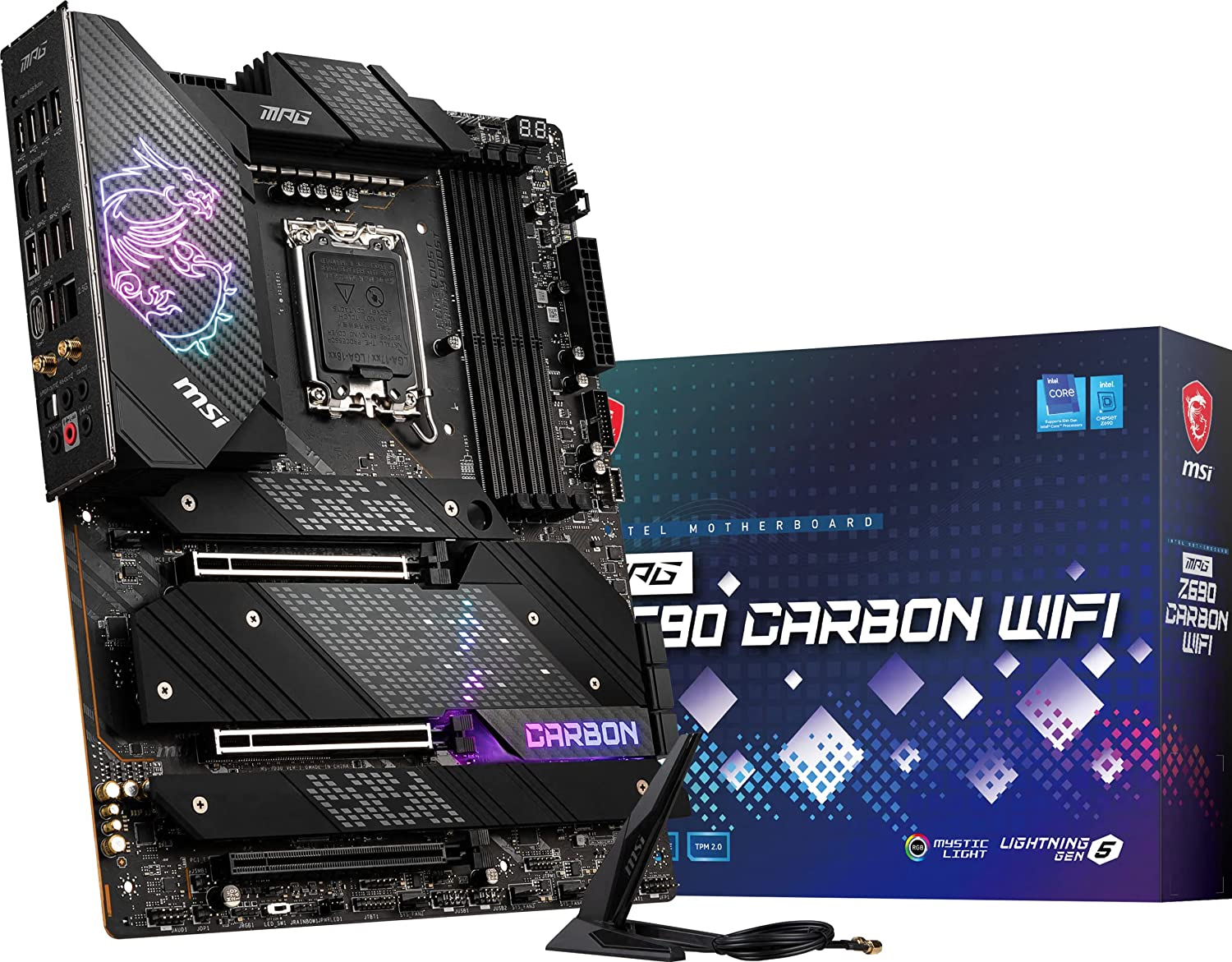 We required a foundational dynamo to properly take advantage of our Intel 12th gen CPU. MSI doesn't disappoint with their MSI MPG Z690 Carbon WiFi Gaming Motherboard based on the intel Z690 chipset. This board supports DDR5 system memory capable of 6666MHz, multiple M.2 storage slots (4-total), PCIE 4, and Direct 18+1+1 phase power array with top quality VRMs. Connectivity options include USB 3.2  Gen2x2 for speeds up to 20Gb/S via a rear panel USB Type-C port. No USB device will be left behind with a grand total of 10x USB ports to support them on the rear panel.
32GB G.Skill Trident Z5 RGB DDR5 RAM
Catch wreck in your favorite games with this glorious DDR5 kit of system RAM designed specifically for Intel 12th CPUs and Z690/Z790 Series Chipsets. This a gamer's set of sticks capable of 5600 (OC). Skip over to the motherboard BIOS to enable XMP 3.0 support with a simple click to unlock the true power of this RAM kit. Each stick is hand-screened for top performance and the brushed-aluminum heat spreader keeps this high-frequency system RAM running smoothly and reliably for this PC build.
MSI 1TB Spatium M480 M.2 NVMe SSD (7000MB/s)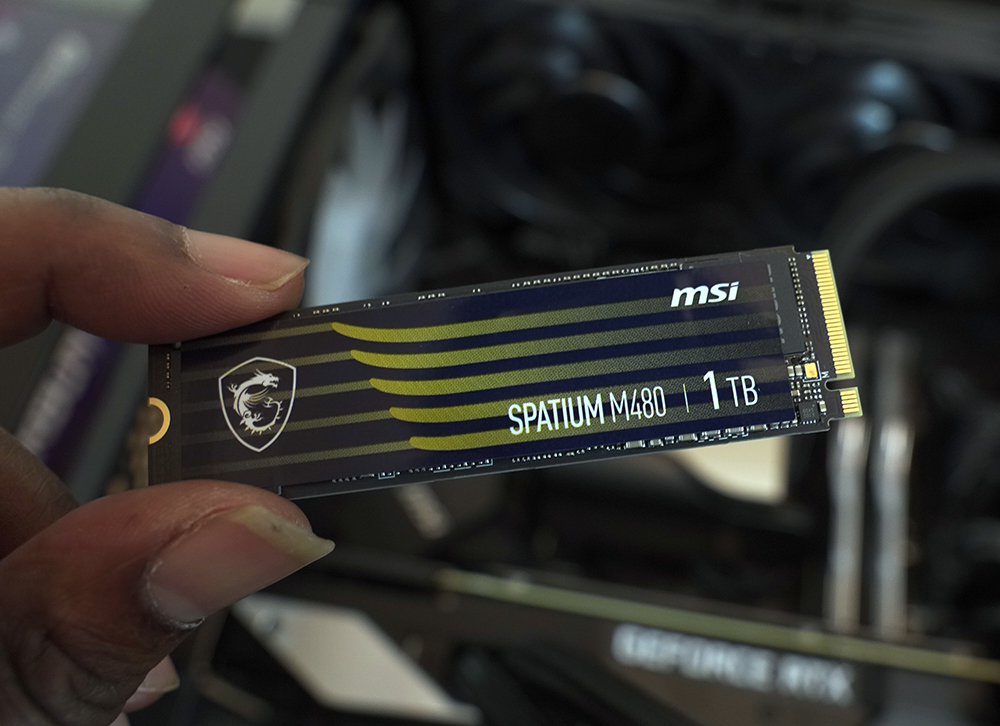 Every component in this system was cherry-picked for insane speed and outstanding performance and this storage unit right here is no exception. The gum stick-sized M.2 NVMe (1.4 3D NAND) storage solution is PCIe 4.0 compliant with sequential read speeds up to 7000MB/s and write speeds up to 6800MB/s. It features data security and error-correction safeguards baked-in and stands at a handsome 1TB-deep of storage capacity.
MSI RTX3090 Seahawk Graphics Card (Asetek liquid cooled)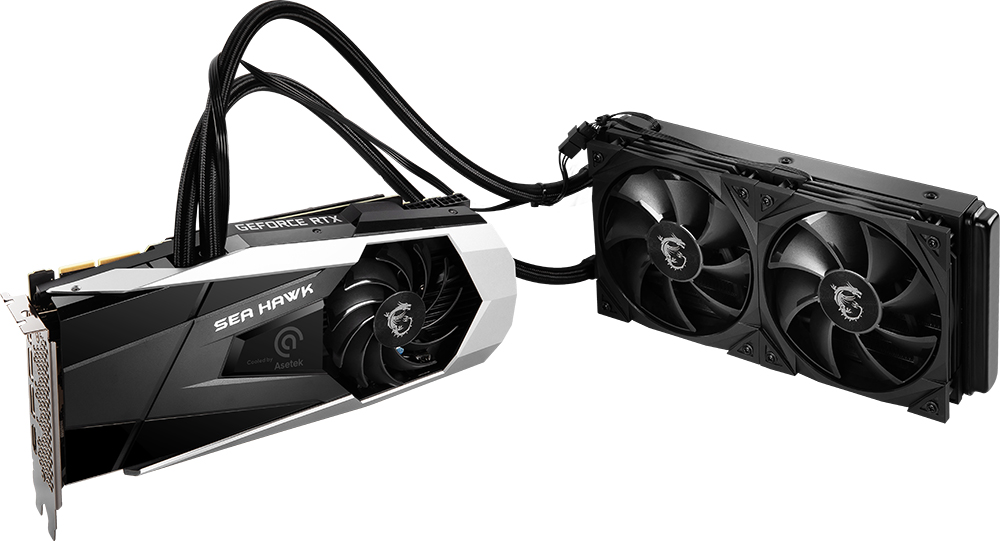 Capable of dissipating a whopping 350+ watts, the MSI Seahawk liquid cooled NVIDIA 30-series 3090 GPU employs our unique cold plate, which features an optimized fin area for Ampere chips, as well as an extended footprint to cool the surrounding VRAM chips. The 240mm aluminum radiator provides peak heat dissipation and includes two 120mm fans.
MSI MPG Velox 100R Mid-Tower Case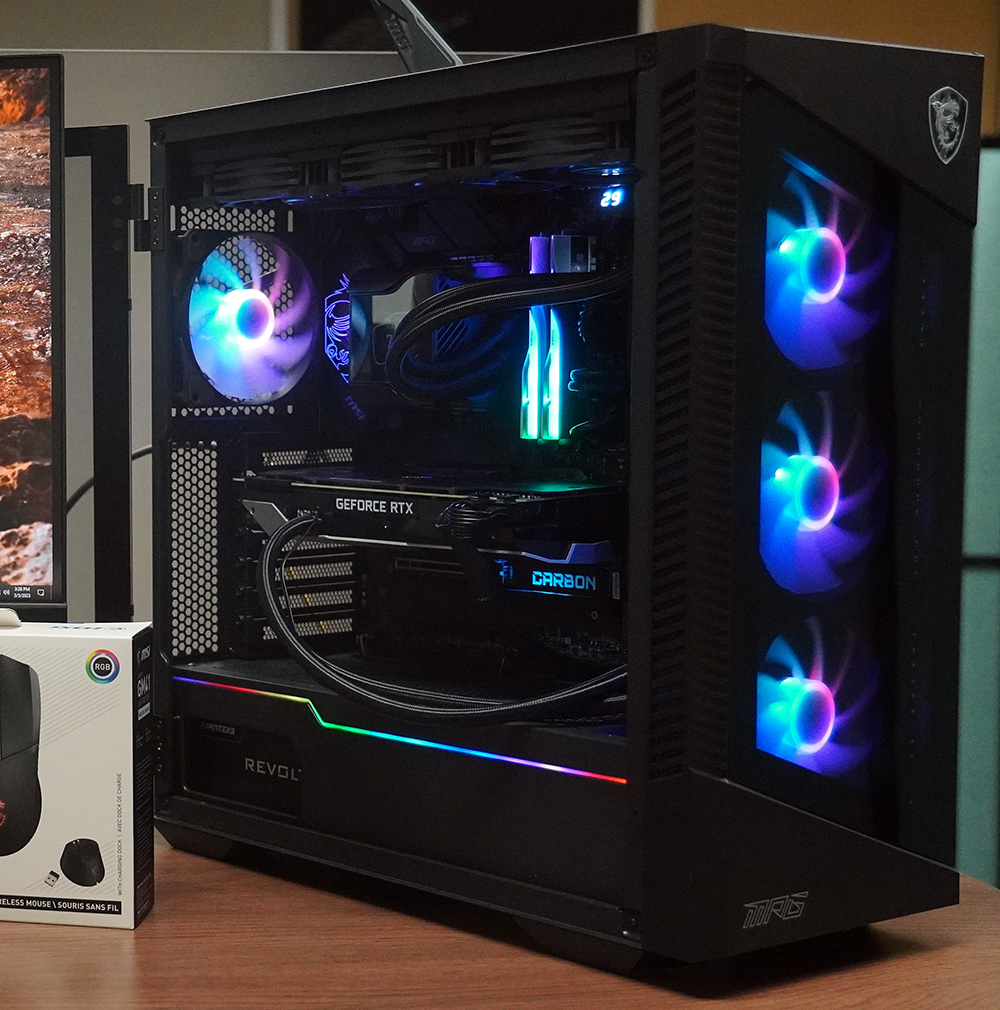 We have an ATX mid-tower chassis here from MSI to house all these choice components. It's constructed from SPCC steel with a laminated tempered glass side. It hangs on two hinges that allow the tempered side panel to swing open wide for complete access. Reach your system interior easily and close it down via the magnetic clasp. You get a couple of internal drive bays in 2.5" and 3.5" form factors. It also includes a set of 3-intake fans (120mm) in the front and a single exhaust fan at the rear.
Phanteks Revolt X 1200 PSU (80+ Platinum)
This clever 1200W PSU can actually power a dual-system setup. The power splitter protects and manages the 12V/5V/3.3V/+5Vsb circuit to the motherboard to allow full compatibility with ITX, mATX, ATX, and E-ATX motherboards.