Asetek & Alienware Custom Aurora R15 For St Jude PLAY LIVE
This week we're shipping off the custom skinned Alienware Aurora R15 gaming PC to the winner of this year's St. Jude PLAY LIVE fundraiser giveaway. Not familiar with the PLAY LIVE event? Oh, then you're missing out on a stellar yearly phenomenon that is fun and immensely impactful. To date, St. Jude and Alienware in partnership with Asetek and others, have raised over $50,000,000 for youth across the nation. In fact, the charity is proud to say, "St. Jude has helped push the overall childhood cancer survival rate from 20% when we opened to 80% today."
St. Jude PLAY LIVE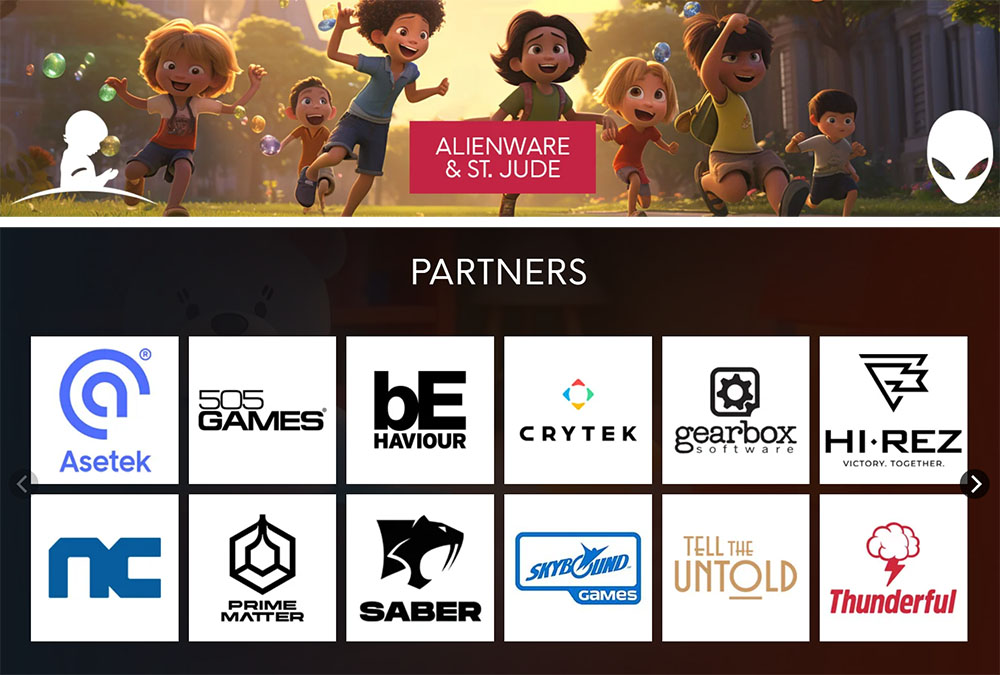 PLAY LIVE brings gamers and content creators together to drive awareness and galvanize their communities and viewers to donate to the cause. The goal is to raise funds and help those that need them most. Here's a bit more from St. Jude itself; "Whether it's gaming, sewing, crafting, music or tabletop games, you can put your skills on display while raising funds and awareness for our lifesaving mission: Finding cures. Saving children".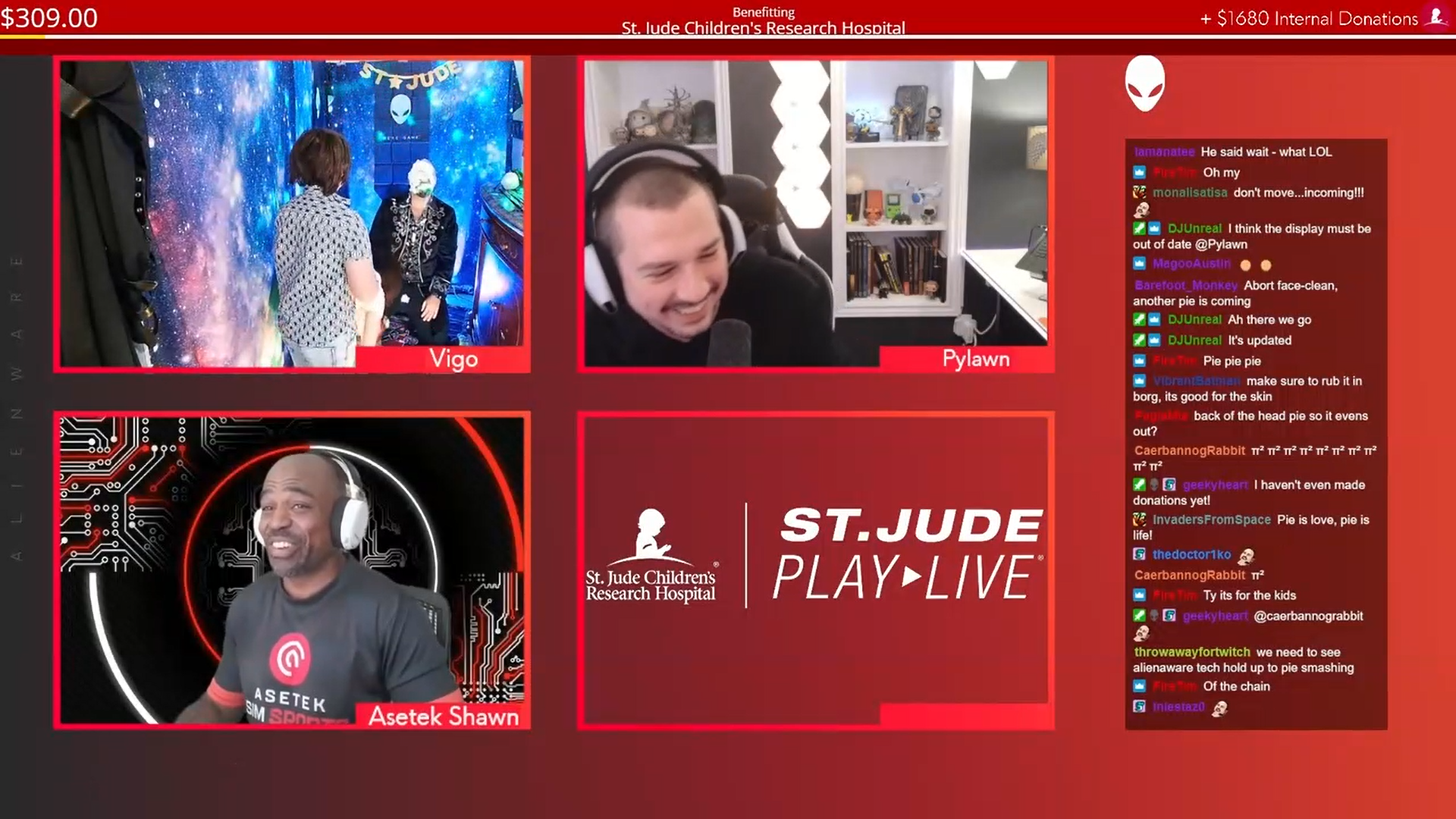 As you probably know, Alienware is one of Asetek's favorite System Integration partners. Every year for the past 4 years we secure the Top Donor slot for the Alienware PLAY LIVE fundraiser. Not only did we donate a smokin' gaming PC from Alienware, but we also joined the AW team with a livestream appearance by yours truly. During the madcap livestream we talked about Asetek Liquid Cooling, Asetek Simsports, the giveaway PC, and how honored we are to support St. Jude in its fight to save young lives. The livestream was lit and PLAY LIVE is an amazing cause for which Asetek is so very proud to be an integral part.
Dressed to impress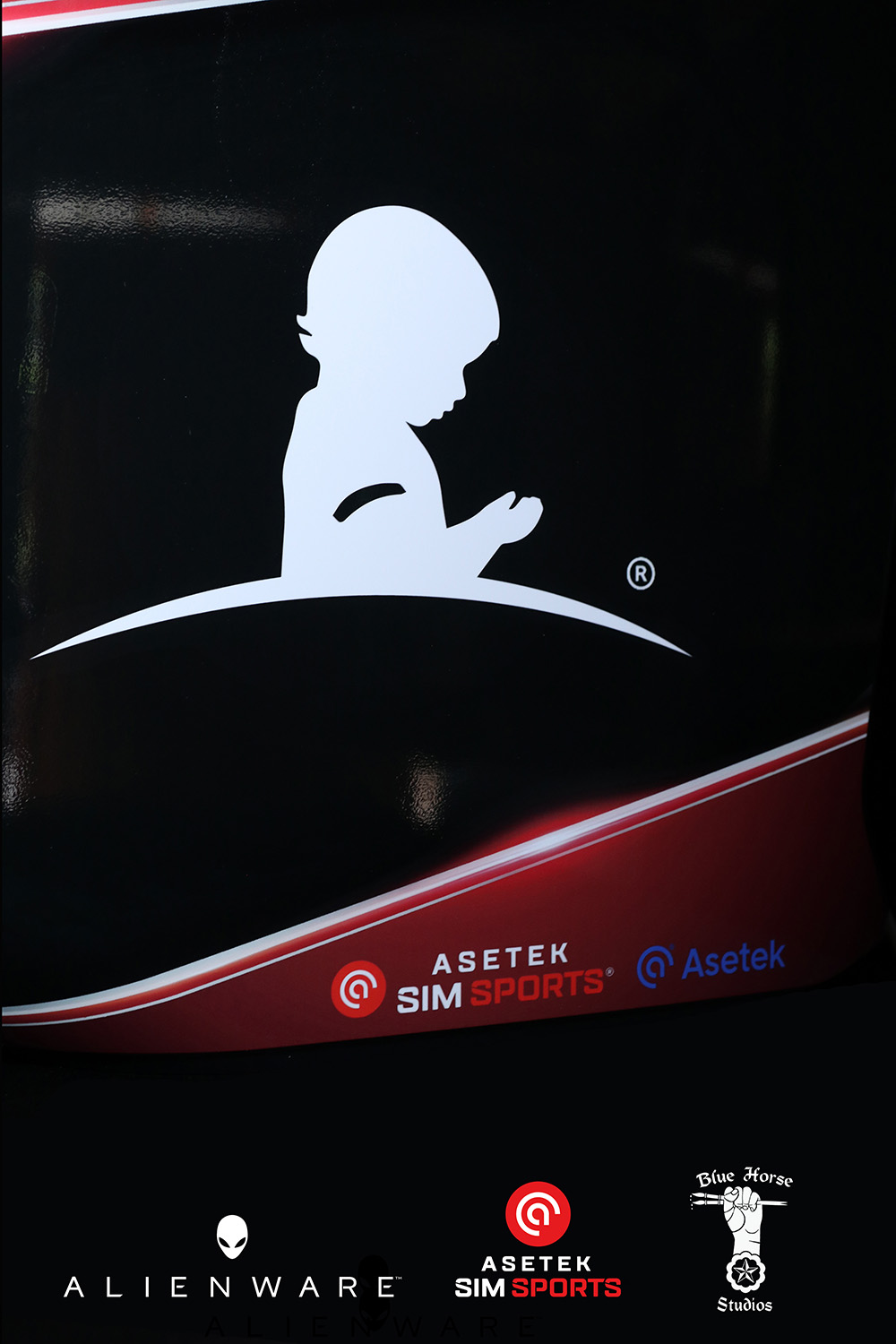 Regarding the gaming system, I personally configured an Aurora R15 PC and tapped our friends at Blue Horse Studios to create and apply a custom skin for the chassis. The skin is absolutely bananas and completely exclusive for this rig alone. But it's Alienware's meticulous engineering and our configuration that ensures this is a battle station ready to tackle any game the winner throws its way.
Check out the specs!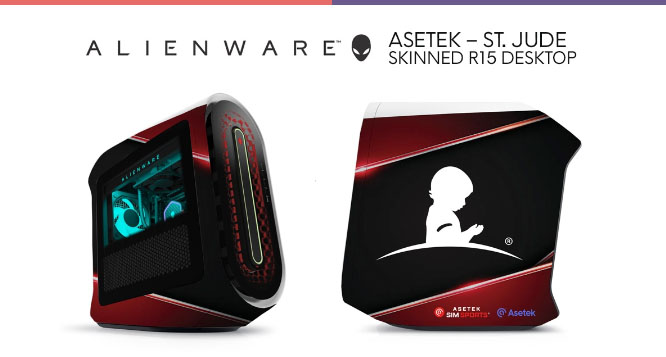 Intel 13th Gen Core i7 13700F (16-Core, 2.1GHz to 5.2GHz)
Asetek powered Gen7 CPU AIO cooler w/ RGB
Microsoft Windows 11 Home, English
NVIDIA GeForce RTX 3070, 8 GB GDDR6
32GB, 2 x 16 GB, DDR5, 4800 MHz System RAM
1TB NVMe M.2 PCIe SSD Pic 1
Alienware Lunar Light White PC Chassis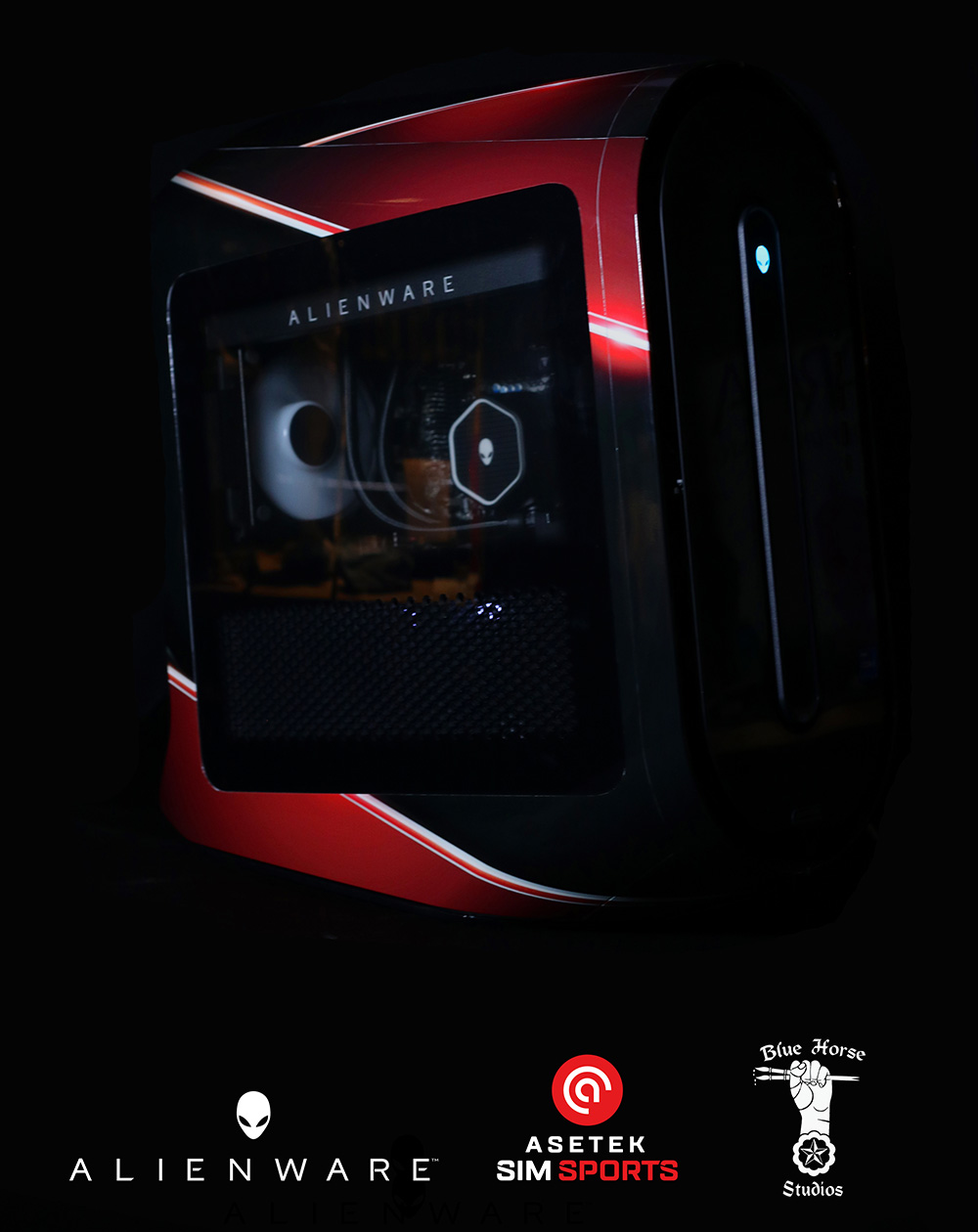 The system is a capable gaming behemoth that makes use of Alienware's latest Lunar Light PC chassis. The case features a clear side panel that has been updated for improved ventilation via a perforated portion at the lower end of the panel. This nuance is crucial for ushering out unwanted heat produced by the NVIDIA GeForce 3070 video card we selected. The main cooling solution of course is the company's Cryo-Tech AIO CPU liquid cooler, which is powered by Asetek Gen7 pump technology. Gen7 is armed with a 3-phase motor for higher flow and quieter operation. Larger tube diameter, redesigned radiator, and smoother pathways support the bump in liquid flow.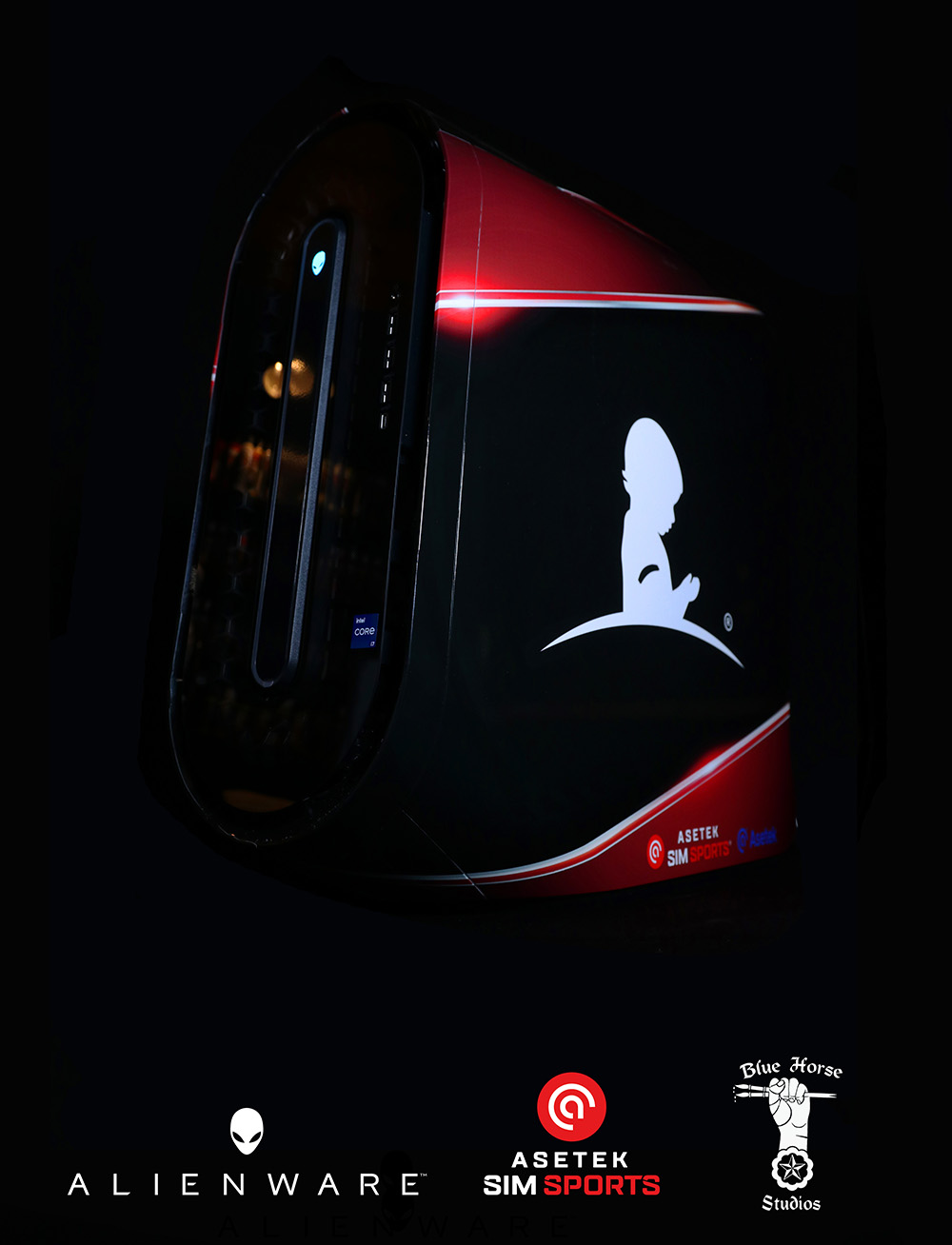 Asetek is an insanely proud sponsor for such a noble endeavor. We hope to be back next year to support this heroic cause. In the meantime check the link here for this year's 13 hour livestream! Hats off to the Alienware crew for making that happen and lets all thank St. Jude for the incredible work they do all year-round.