Building The Asetek SimSports Custom Modded Racing PC
We've given away several gaming PCs. But we set out to do something special with this one. Our goal was to create a gaming system that personifies our tenets of Performance. Precision. Passion.
We also wanted something that spoke to gamers in a way only Asetek can. You see, both sides of our business (liquid cooling and SimSports) aim to drive PC gaming forward. Asetek Liquid Cooling provides partners with CPU cooling systems that ensure processors run cool and stand the test of marathon gaming sessions. Asetek SimSports cranks out high-end sim racing gear like our Asetek SimSports Invicta high-end hydraulic Sim Racing Pedals, which provide an unparalleled sense of realism and immersion in your favorite racing titles. In essence… Asetek Liquid cooling enhances and sustains high-performance gaming, while Asetek SimSports provides superior gamer immersion. And a purpose-built PC rests squarely between the two, bridging the gap.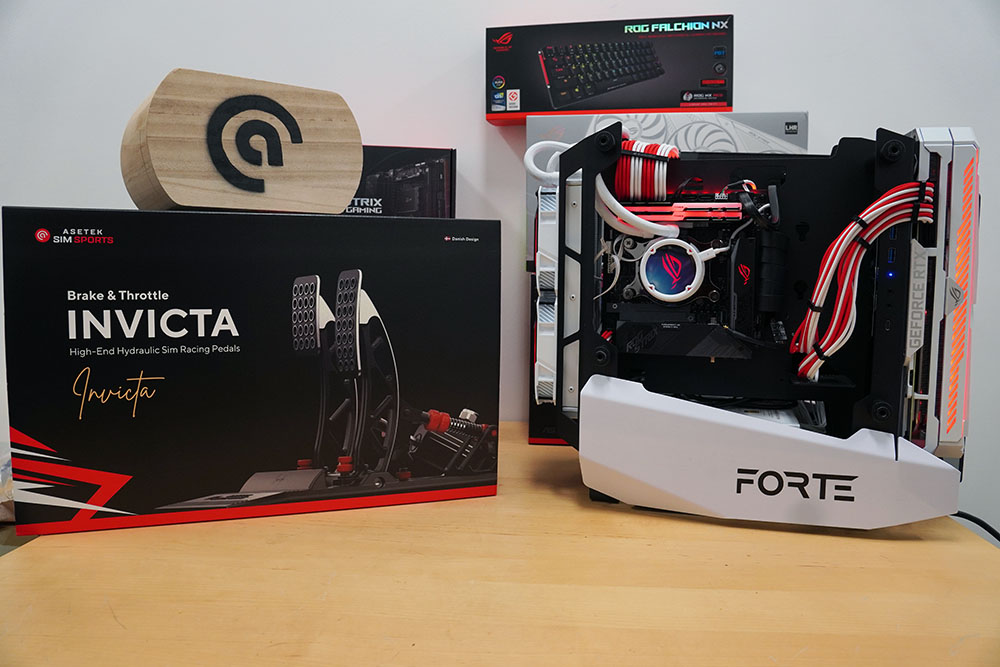 This custom PC mod features strong refined liquid cooling under one of our strongest partners in ASUS ROG. The system is meticulously constructed and made to run sim racing games effortlessly and with high visual fidelity. It's also a symbol to stylishly remind all onlookers of the purpose and drive behind this build and the brands these components represent here. That's PC Gaming and Sim racing, baby!
Now before we dive in, let's take a peek under the hood!
AMD Ryzen™ 7 5700X 8-Core, 16-Thread Processor
ROG Strix LC RGB White Edition AIO Liquid Cooler
ROG Strix X570-I Gaming, X570 Mini-ITX Gaming
ROG Strix NVIDIA GeForce RTX 3070 V2 White OC Edition
ROG Strix 850W White Edition PSU
G.Skill Trident Z Neo Series 32GB DDR4 3600MHz
HP Phison 500G Low Profile M.2 drive
Antec Striker Aluminum and Steel ITX Computer Case
AMD Ryzen™ 7 5700X 8-Core, 16-Thread Processor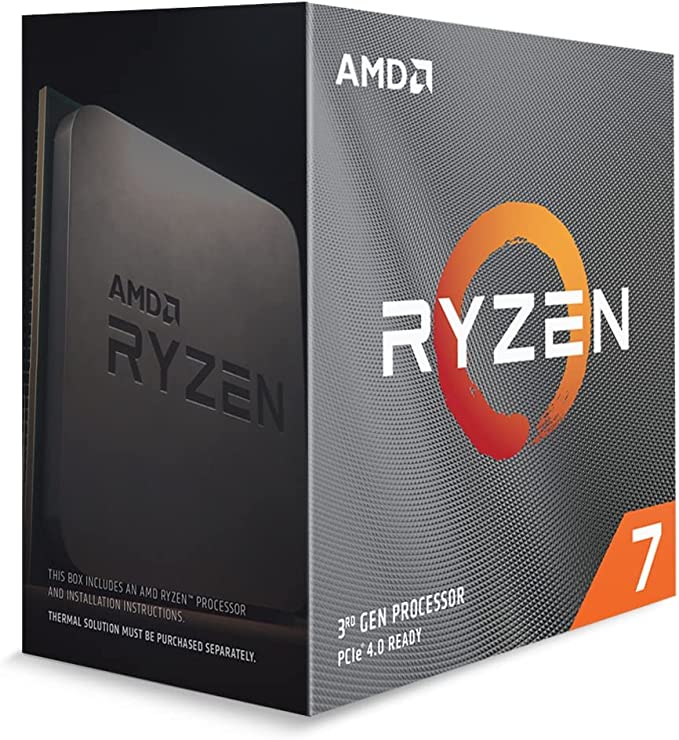 This chip is a gamer's dream. It's powerful while consuming less energy than the competition at this price point. Arguably more important is the 5700X is affordable and relatively easy to find. Up to 4.7GHz boost clock! That's a bold statement at $300 (or below if you catch a deal). With 6-cores and 16-threads, the AMD Ryzen 7 5700X processor offers a range of functionality for gamers, streamers, and digital content creators who are looking to get complex work done quickly…or those who just want their games to run at a high FPS with virtually no issues. Power draw maxes out around 105W, which is easily managed by the ROG Strix LC RGB White Edition AIO Liquid Cooler.
ROG Strix LC RGB White Edition AIO Liquid Cooler
Super dapper and draped in all white, the Strix LC RGB White Edition AIO Liquid Cooler is our key to unlocking this processor's full potential. Air cooling just isn't suitable here, where long racing sessions can really turn up the heat in our small Antec chassis. Liquid moves heat more efficiently and this liquid cooler features a large copper cold plate to blanket the full CPU package, an ultra-quiet pump-in-block, and the whole system is virtually leak-free. Asetek performs stringent helium leak-testing before shipping out each AIO cooler. All-in-all, this makes for a high-performance, noise-free system that is durable, and easy to install.  The pump, 240mm radiator, reservoir, tubes, and cold plate come all in one, functionally resulting in a closed-loop system. An intuitive tool-free retention system is included for further ease-of use.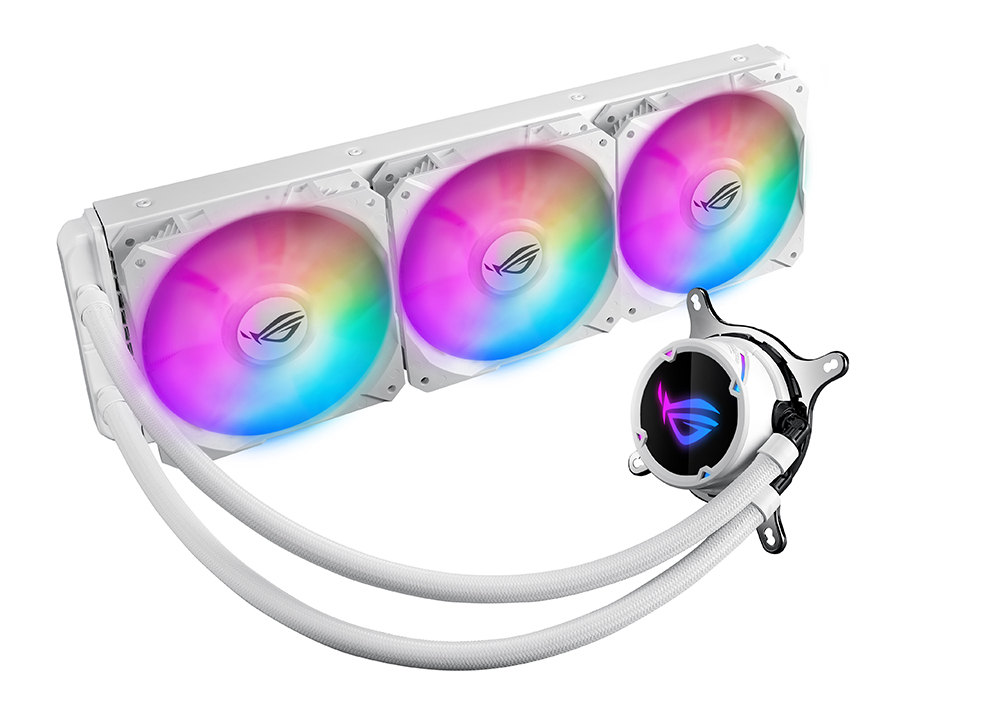 Remember, we nabbed the AMD Ryzen 7 5700x for this build. That "X" means the processor is unlocked and ready for overclocking. Overclocking will boost the clock speed and yield a bit more performance at the cost of more heat. Don't sweat! The Strix LC RGB White Edition AIO Liquid Cooler can manage more than 250W—scoffing at any added heat thrown its way and that leaves plenty of headroom for CPU overclocking.
Oh, did we mention it looks incredible! This AIO was selected because it marries beautifully with our Asestek SimSports iconography in its white color scheme. Moreover, the brilliant RGB lighting can take on a variety of colors and lighting effects to further dial in your own specific style. That's exactly what Blue Horse Studios did with the radiant crimson illumination you see here.
ROG Strix X570-I Gaming, X570 Mini-ITX Gaming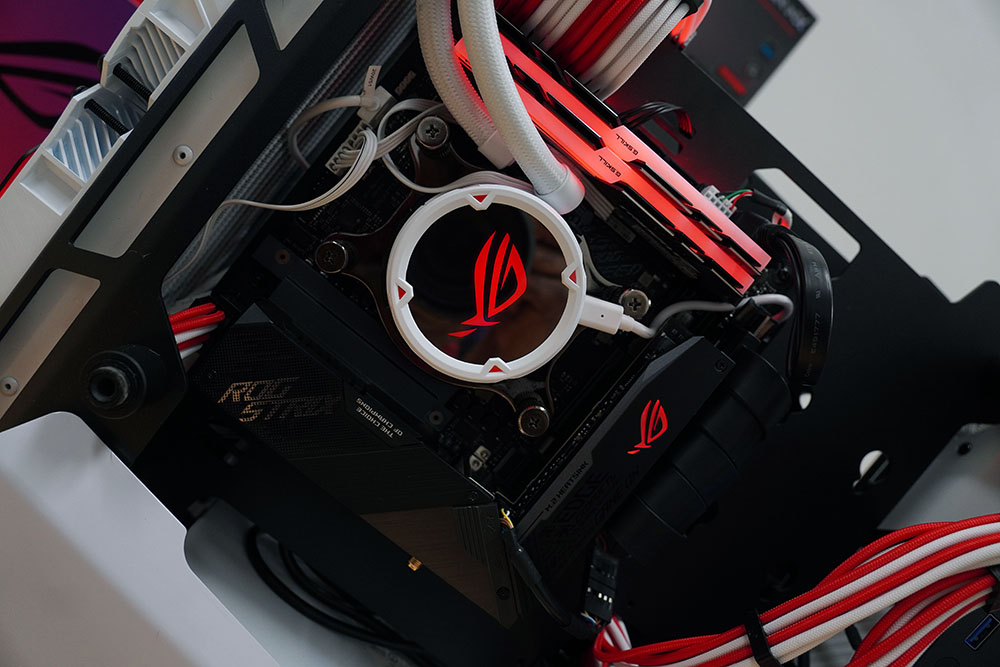 A strong gaming system requires an equally strong foundation and that's where our motherboard of choice comes in. This is one of the few X570 chipset motherboards available in mini-ITX. The ROG Strix X570-I Gaming is loaded with top-end features. Yet it was selected primarily for its SFF-friendly size, PCIe 4.0 support for speedy M.2 storage solutions, premium alloy chokes, and 8+2 power delivery for system stability—especially when overclocking. We also get impressive VRM regulation, which is a bonus. Every amount of cooling and stability enhancements can be crucial when building in constrained PC cases. It also helps that this little monster is holding 8x USB ports. One of these is a Type-C and all are USB 3.2 Gen 1 or 2.
Real sim racers know ample USB ports are a must for proper connectivity. Ideally, you can comfortably connect, peripherals, Asetek Simsports Invicta or Forte pedal sets, racing wheel, direct drive, shifter, and headphones/speakers.
ROG Strix NVIDIA GeForce RTX 3070 V2 White OC Edition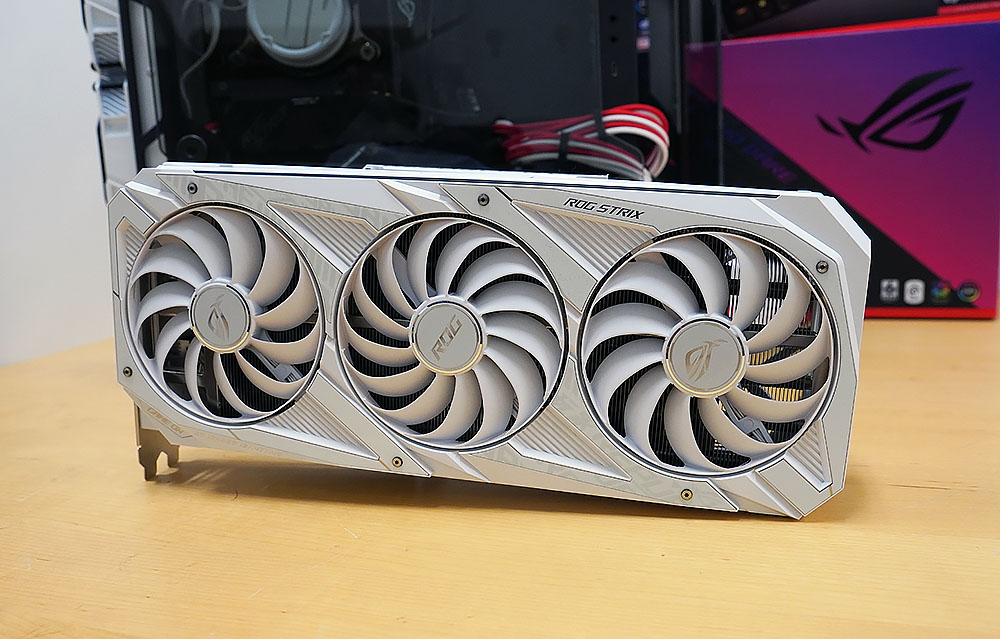 Smooth seamless motion in racing games is essential for diehard racers. Hiccups, stuttering, or chopping framerates hinder game performance and inevitably increase lap times. This card is no joke when it comes to bang-for-buck. Powered by NVIDIA Ampere, this is the company's latest GPU architecture. In terms of performance, we have a boost clock of 1935 MHz (OC mode)/1905 MHz (Gaming mode). It has 8GB GDDR6 video ram clocked a 14Gbs, enough to keep the likes of iRacing, Asseto Corsa or even Forza churning along at a butter smooth pace.
The ROG Strix NVIDIA GeForce RTX 3070 is a 2.9 slot card—so a bit on the thick side. But you do get a beefy triple-fan cooling system for the girth. You also can't go too much bigger in this particular PC chassis.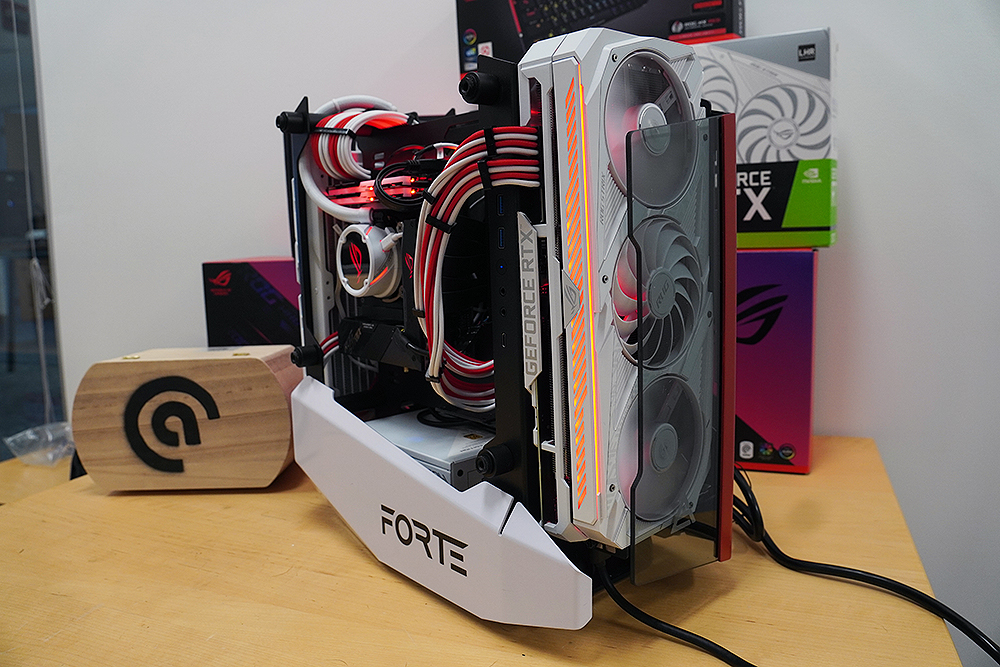 We did, however, go above spec on the PSU. The GPU requires a 750W power supply. We wanted the winner of this monster system to have the freedom to overclock the CPU and GPU if they like. That will ultimately draw more power and that's why we landed on the ROG Strix 850W White Edition PSU for plenty of juice to OC and game without concern.
G.Skill Trident Z Neo Series 32GB DDR4 3600MHz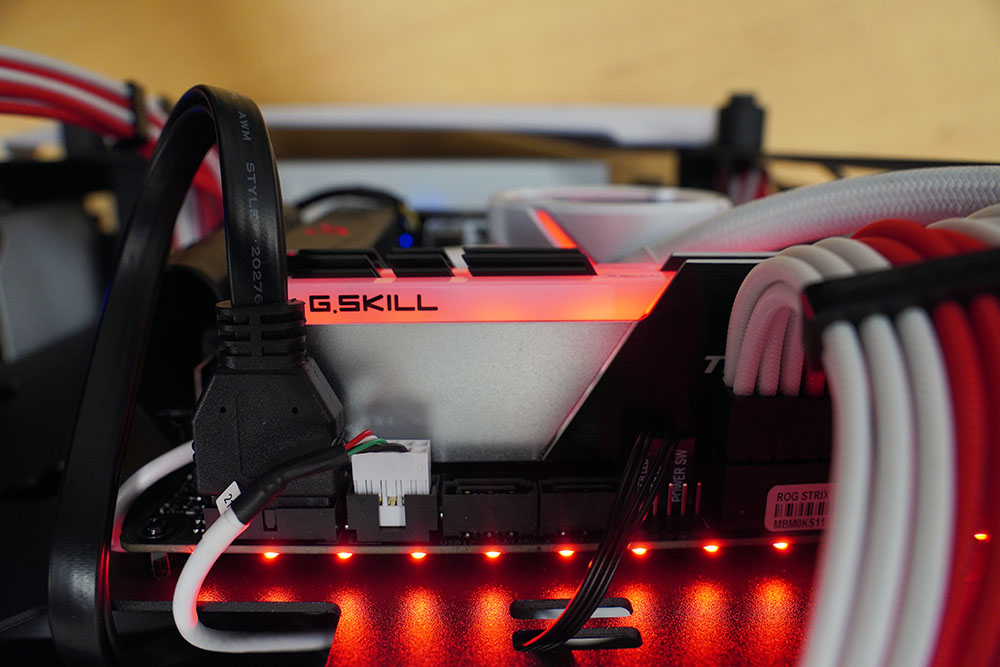 Antec Striker Aluminum and Steel ITX Computer Case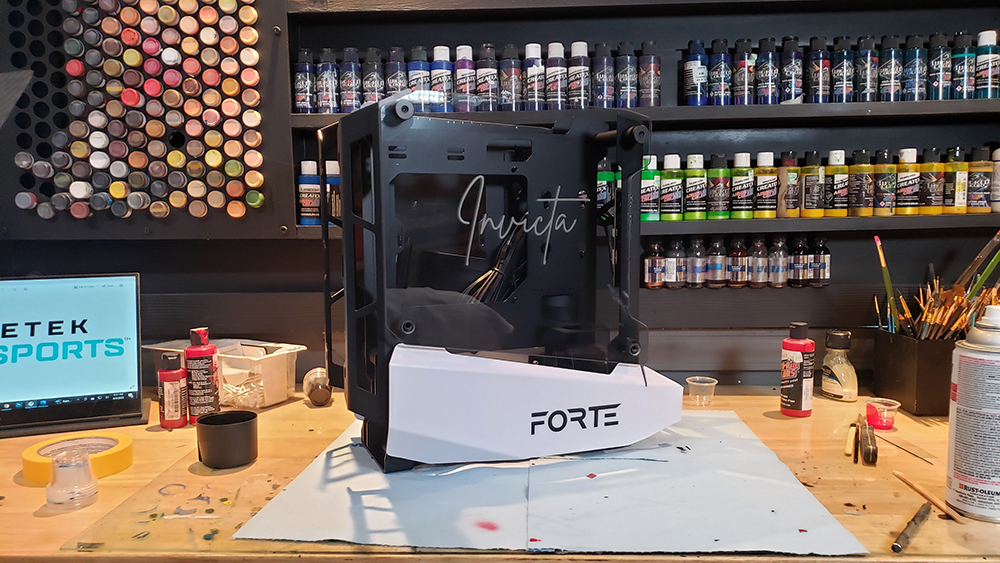 The Antec Striker ITX open-air PC case is perfect for our purposes here! With the chassis in mind, I  wanted something that would make a bold statement, while also being something that allowed Blue Horse Studios to work their magic. We kept the system small since full sim racing rigs can take up a lot of room with steering wheels, pedals, and the frames that hold them. "Let's save space for the user where we can." The 360 AIO LC radiator is mounted at the back of the case on a bracket, while the GPU is mounted at the front of the case, where builders typically mount case intake or exhaust fans. The fans on the back radiator and on the GPU pair so nicely with the sleek sweeping curves and angular lines of the Striker case to create this kickass spaceship or racecar shape to the entire system. The whole thing is so SICK! More practically, the open-air design lets the system suck up much-needed cool air as things heat up in its tiny living space.
The Striker is unique and visually unlike any other case I could find for this project. Above all, Blue Horse Studios was able to truly blend the iconic look and colors of Asetek SimSports with this case's style to produce something unreal and yet perfect to promote both liquid cooling and the real racing-inspired heritage of Asetek SimSports.
Here's some insight from Ron Lee Christianson of Blue Horse Studios, on what he did to mod this sim racing PC to perfection.
The Mod Mystic at Blue Horse Studios
Ron: I sanded all the panels, painted them white, then airbrushed all the logos and graphics. It was finished with a high gloss urethane clear coat. The side panels were glass-etched using an abrasive air sprayer. The system has custom RGB lighting, liquid cooling Asetek and ROG and sleeved cables to match the Asetek SimSports Audi A8 Racer.