Portable Powerhouse: The Perfect Gaming Rig for On The Go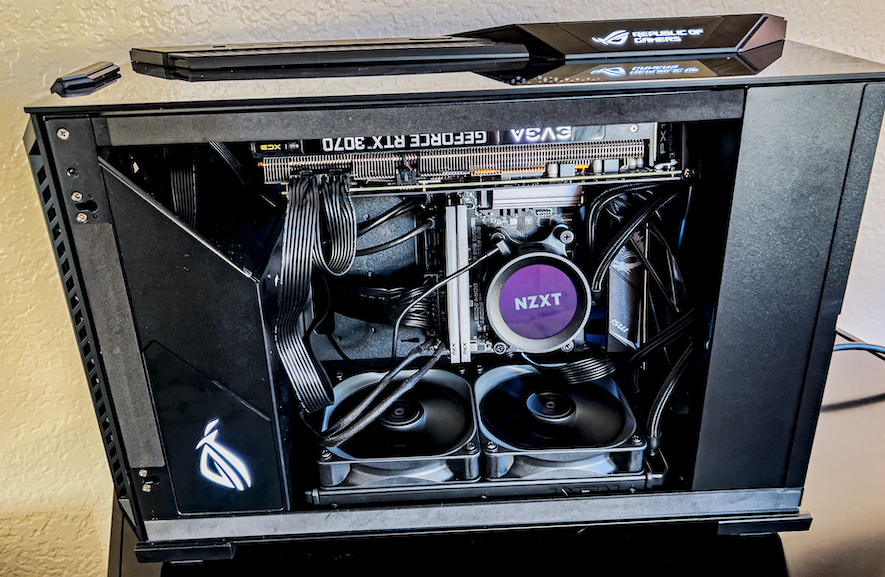 Gaming rigs aren't generally made to be small. They're intentionally designed to be behemoths. Top-of-the-line hardware is all about maximizing performance, not space or cost. That's for console gamers.
But not everyone has a home entertainment center or even room for more than a simple desk and a single monitor. Some of us even (pre-Covid) bring our desktops to massive arenas for tournaments. And it's no fun lugging around a 50lbs monstrosity.
Enter Mini-ITX. The motherboard type was designed for the tiniest of cases, without resorting to an all-in-one desktop. You know, the ones built into a display, not our all-in-one liquid coolers.
Yet with the rising cost of living, cost of homes (houses and rent alike), and space coming in at an all-time premium, this smaller form factor is becoming more and more popular. With that mindset, we set out to build the ultimate compact desktop. We present the Portable Powerhouse.
Portable Powerhouse
Building the ultimate gaming desktop that's conservative on space is no small feat. Today, thankfully, it's easier than ever. Especially if you want to overclock your CPU and throw in some serious liquid cooling. Asetek may have pioneered AIO liquid cooling on Mini-ITX builds with 120mm and 140mm options, but today even 240mm radiators will fit.
This portable rig is built with the following specs:
If you didn't know better, you'd guess this was a regular gaming desktop. With an MSRP of $2,037, it's high-end and won't completely break the bank. The only indication (by naming alone) that this is a Mini-ITX build is the power supply, blatantly calling out the SFX PSU type. Only that, the motherboard, and the case are specifically built for this form factor…and, ironically, we didn't even need the PSU to be especially small.
ASUS did an outstanding job with the ROG Z11, combining military-grade build quality in a relatively little frame. It's not small in the traditional sense of Mini-ITX cases; instead of a minuscule size in every way, the Z11 is long (or tall, if you stand it upright) and thin, modelesque. At 7.64 inches wide and 15.2 inches deep, space is at a premium inside. So ASUS made some very smart design decisions to maximize airflow without limiting components to Mini-ITX only.
This is important for top-level performance from any gaming rig; the biggest flaw of most Mini-ITX rigs is that they're too small for liquid cooling, or else require smaller 120mm or 140mm radiators. With the ROG Z11, there's plenty of room specifically for this purpose, so we opted to include a full 240mm AIO with the NZXT Kraken Z63. (Z-based names were not intentional!)
Setup – A One-Time Challenge
Initial installation of all components into this portable powerhouse…didn't come easy. The small form-factor is the primary cause (limited space plus unique case design), so for the uninitiated, prep work will save you from hassle and grief. That, and putting together as much as possible before getting it into the case.
The motherboard goes in upside down so the GPU is at the top for "hot" swapping. The PSU can only be installed by removing a metal slab, which is specific to SFX models; standard PSUs have their own bracket. The cabling was also already organized, and there's plenty of slits to organize your cables as needed based on any component variation.
Once the motherboard is installed upside-down, and the PSU is installed and secured, it's just a matter of plugging in the necessary cables. And with the Z11 housing the motherboard entirely, any and all connections need to be set up in advance; there won't be any accessing the back panel once the side panel is closed and screwed in place. That's where the extension hub (below) comes in.
The extension hub makes a huge difference in keeping everything organized and situated. Lighting, fans, as well as the case buttons and connectors all flow through this hub. Once hooked up, this entire desktop will be even more accessible externally than your typical Xbox or Playstation. And way more powerful to boot.
All in all, installation takes anywhere from 60-90 minutes, depending mostly on how good you are at reading instructions.
The Greatest Limitation: GPU
Mini-ITX builds have one obscene limitation for gamers, though it makes perfect sense as our graphics processing gets bigger and bigger: room for the GPU. Of the current NVIDIA and AMD offerings, only a handful of cards from any manufacturer fit in a typical Mini-ITX case. The best right now is the NVIDIA RTX 3070 Founders Edition; everything else is too tall or too thick, thanks to oversize cooling options.
With the ASUS Z11, available space is still a major constraint, but it's not the most limiting factor. Instead, the only limitation listed is the length of the GPU; the Z11 supports up to 320mm, which every current model except for the RTX 3090 is under (the 3090 FE is a colossal 336mm).
Considering our scope for this rig was to build a Mini-ITX that would work for anyone, we went ahead with the EVGA RTX 3070 XC3. It meets the minimum requirements for Mini-ITX cases, is a great GPU…and we could actually get it. No one is left unharmed by the ongoing GPU glut. Though we're much happier with the EVGA model rather than NVIDIA's RTX 3070 FE, if only for better air cooling, especially in such a confined space.
This brings us to the final piece of this puzzle: performance.
Performance For On The Go
There are two major victories with this small form factor build: that it's easy to lug around, and it's also easy to keep out of sight in the home. Even with the generous size of the Z11, this rig can be stored behind a TV for living room play, swapped into the home office for some time on a proper gaming monitor, or on the road.
The major benefit of the Z11 is the thin frame; in my home the living room TV sits on a giant subwoofer, leaving plenty of space behind both the TV and on the floor beside it. There's almost no spot that I can't fit this rig thanks to the small size.
Now that I'm a parent, weekends and holidays are regularly spent away from the homestead. And gaming on a laptop…it just isn't right, still. While there are more options to game on the go than ever before, access to a respectable display and decent internet is better than ever. And as much as I'd love to leave the desktop at home and stream my games, it's just not the same.
For this test build, I brought the portable powerhouse on the road with me a half dozen times, from a 5-minute drive to an hour away. It was frankly more difficult to deal with the peripherals than the desktop itself. Everything is so well bolted into the Z11 that even on the worst drives I never felt like I'd need to open it up and refasten, well, anything.
Power is No Limitation
With the specs listed above, this rig is capable of 60FPS 1080p gaming and even has the muster for 1440p. Performance with Mini-ITX builds is hindered by two factors: small PSUs and small GPUs. Thanks to the ASUS Z11 that isn't a serious concern, yet even with our choice to use only parts that would fit into a traditional Mini-ITX case, it still isn't a problem.
The latest generation of graphics cards is just so damn good.
Even the standard RTX 3070 is a beast, let alone the Ti model. Combined with a relatively low 16GB of DDR4 memory and our liquid cooled Ryzen 7 5800X, plus the 1TB NVMe XPG S70 Gammix, snappy doesn't quite explain it. Practically instant is more apt.
For 1080p gaming, the only game that managed under 60FPS at max settings was Microsoft Flight Simulator, which isn't a surprise. See the table below for some quick benchmarks (bold indicates games that dropped below 60FPS).
| | | | | |
| --- | --- | --- | --- | --- |
| Game | 1080p High | 1080p Max | 1440p High | 1440p Max |
| Cyberpunk 2077 | 138 | 85 | 130 | 79 |
| Microsoft Flight Simulator | 96 | 56 | 86 | 49 |
| Death Stranding | 243 | 170 | 196 | 131 |
| Assassin's Creed Valhalla | 138 | 85 | 117 | 74 |
More VRAM would clear up the few sub-60FPS scores, and in this desktop we could easily have used a number of higher-performance GPUs from both NVidia and AMD. It's obvious that even with the size limitations, self-inflicted and from the available hardware, your gaming experience won't suffer.
The New PPP: Perfect Portable Powerhouse
Forget hoping for a business loan; apply today to have the pitch-perfect gaming and performance desktop of a lifetime. With this build we've successfully proven 3 things:
Performance is no longer hindered by the size of your desktop
Price is no longer a limiting factor for small form factor computing without sacrificing performance
A small build like this can easily be stored behind your TV, used for on-the-road travel, and in the office equally well
Those are no small feats, yet this rig has failed to disappoint at every turn. Aside from an initial challenge with setup (which will always be the case with a small form factor build), I'll be traveling regularly with this portable powerhouse for all of my future gaming needs.
Plus, upgrading isn't a major challenge either. Especially with the ASUS Z11 case, swapping in a new more powerful GPU in the future is two screws and a hot swap away. Just as long as it's 320mm long or shorter. With two M.2 slots and four SATAIII connectors on the MSI MPG B550i Gaming Edge, and plenty of space to throw in SSDs (and even a full-size HDD), storage isn't an issue either. Support for 64GB of RAM, plus the space to upgrade to a more heavyweight PSU…there's little that this Rig can't do.
In fact, the only thing it cannot do is sport the currently overpriced RTX 3090. Which isn't really necessary for gaming, let alone on-the-go gaming. Instead, this portable powerhouse has proven one more amazing thing: even a Mini-ITX PC can be your gaming rig of choice, complete with liquid cooling, overclocking, and performance to match any full ATX PC.